Erin Igoe is currently a high school administrator, forever teacher, mentor, coach, Gen Z mom, and wannabe Dorthea Lange.  Erin has 18 years in education (teaching and administration), a project and problem-based learning classroom guru, 3 years as BTSA Support Provider, Districtwide Literacy Lead on CCSS implementation, Restorative Justice/Peer Court Coordinator and Civic Action Project lead teacher. 
Erin Igoe is determined to make a difference by helping young people discover how they can too. Erin gets her students a seat at more than just the lunch table, engaging them as changemakers whose voice matters.
[fusebox_track_player url="https://traffic.libsyn.com/secure/better/Ruffling_adult_feathers_through_civic_action.mp3″ artist="Erin Igoe" title="Ruffling Adult Feathers Through Civic Action" social_twitter="true" social_facebook="true" social_linkedin="true" social_pinterest="true" social_email="true" ]
[fusebox_transcript]
Show Highlights
Ruffle your adult feathers to soar

Ruckus teaching with constitutional rights and civic action 

A seat at the table makes meaningful impact

Train your students to hold you accountable to lead your mission

The pandemic paradigm shift  for this generation

The challenge of making change in high performing schools

"Master" a tremendous opportunity for growth

School's should collaborate versus compete for better outcomes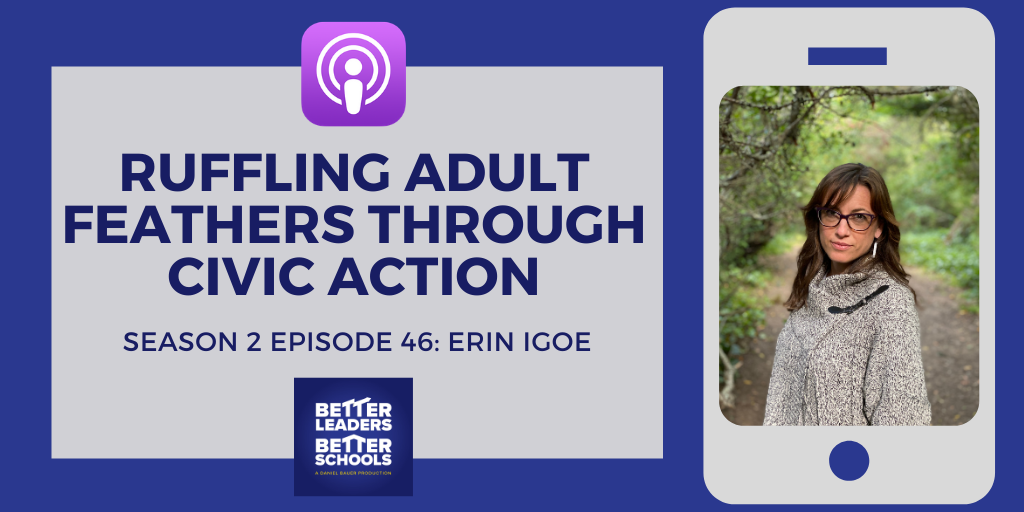 "We need to grow each other and that's how you impact kids.
When you see cooperation or collaboration, what you see is tremendous things happening. Competition is fine but competition through cooperation I think is really where it's at. When you just compete, you're othering people. All you're doing is perpetuating what we already have."
– Erin Igoe
Erin Igoe's Resources & Contact Info:
Looking for more?
SHOW SPONSORS:
HARVARD GRADUATE SCHOOL OF EDUCATION
Transform how you lead to become a resilient and empowered change agent with Harvard's online Certificate in School Management and Leadership. Grow your professional network with a global cohort of fellow school leaders as you collaborate in case studies bridging the fields of education and business. Apply today at http://hgse.me/leader.
The SMART Learning Suite Online allows teachers to create, store, and deliver lessons from anywhere – no SMART Board required – and your students can access and engage with your content from any web browser on any device. And it connects with tools you already use like Google Classroom and Microsoft Teams.
The research-backed EdTeach Assessment Tool will help Ruckus Makers discover their strengths and best area of focus across 5 different modules, including leadership and remote learning. You'll get a personalized report that shows where you stack up against other leaders, and maps some areas of focus that will have the greatest impact for you. 
Organized Binder is the missing piece in many classrooms. Many teachers are great with the main content of the lesson. Organized Binder helps with powerful introductions, savvy transitions, and memorable lesson closings. Your students will grow their executive functioning skills (and as a bonus), your teachers will become more organized too. Help your students and staff level up with Organized Binder.
Copyright © 2021 Twelve Practices LLC
(Visited 210 times, 1 visits today)