Lindsay Lyons is an educational consultant who works with teachers and school leaders to inspire educational innovation for racial and gender justice, design curricula grounded in student voice, and build capacity for shared leadership. Lindsay taught in NYC public schools, holds a PhD in Leadership and Change, and is the founder of the educational blog and podcast, Time for Teachership. 
Lindsay  helps leaders build their adaptive capacity to lead school-wide change grounded in antiracism, inclusion, and stakeholder wellness. This includes helping leaders set up structures for shared leadership that amplifies student, teacher, and family voice through virtual coaching calls and supporting your teachers to design engaging, culturally responsive, project-based curricula through self-paced online courses.
She's helped hundreds of dedicated leaders and thousands of passionate teachers across the United States and internationally improve their practice and create educational environments in which all students are able to thrive.
[fusebox_track_player url="https://traffic.libsyn.com/secure/better/5_Mechanisms_of_shared_leadership.mp3″ artist="Lindsay Lyons" title="5 Mechanisms of shared leadership" social_twitter="true" social_facebook="true" social_linkedin="true" social_pinterest="true" social_email="true" ]
[fusebox_transcript]
Show Highlights
Healing "soul harm" 

Teaching for justice and leading for justice

How do we make schools more equitable 

The easiest first step for leaders

Five big shared leadership mechanisms  

Simple answers and the biggest barrier

Embrace that radical collegiality as a foundation

Family partnership is made easy with this invitation 

Essential Self Reports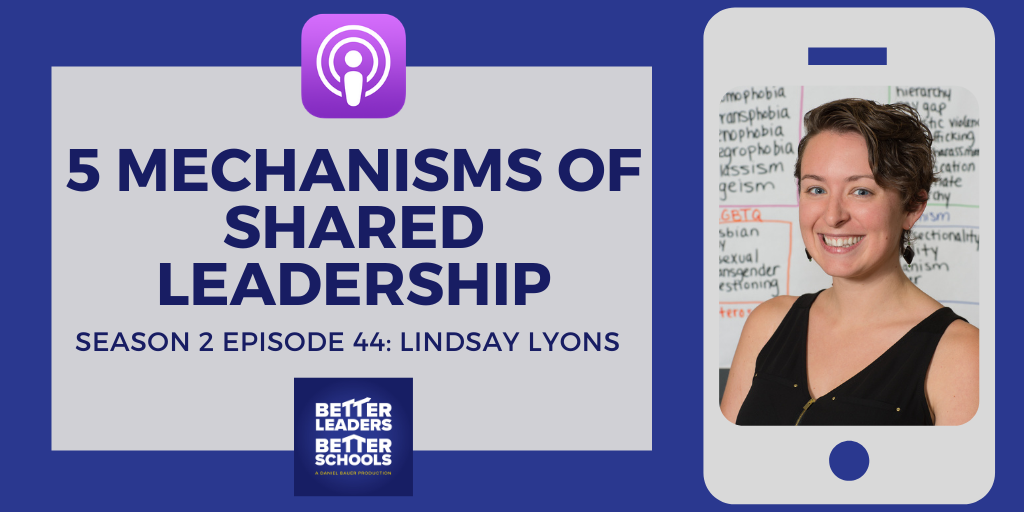 "Setting up structures for shared leadership ensures that equity and justice initiatives are really sustainable and not just one-time actions." 
– Lindsay Lyons
Lindsay Lyons' Resources & Contact Info:
Looking for more?
SHOW SPONSORS:
HARVARD GRADUATE SCHOOL OF EDUCATION
Transform how you lead to become a resilient and empowered change agent with Harvard's online Certificate in School Management and Leadership. Grow your professional network with a global cohort of fellow school leaders as you collaborate in case studies bridging the fields of education and business. Apply today at http://hgse.me/leader.
The SMART Learning Suite Online allows teachers to create, store, and deliver lessons from anywhere – no SMART Board required – and your students can access and engage with your content from any web browser on any device. And it connects with tools you already use like Google Classroom and Microsoft Teams.
The research-backed EdTeach Assessment Tool will help Ruckus Makers discover their strengths and best area of focus across 5 different modules, including leadership and remote learning. You'll get a personalized report that shows where you stack up against other leaders, and maps some areas of focus that will have the greatest impact for you. 
Organized Binder is the missing piece in many classrooms. Many teachers are great with the main content of the lesson. Organized Binder helps with powerful introductions, savvy transitions, and memorable lesson closings. Your students will grow their executive functioning skills (and as a bonus), your teachers will become more organized too. Help your students and staff level up with Organized Binder.
Copyright © 2021 Twelve Practices LLC
(Visited 319 times, 1 visits today)