Dr. Amy Platt is delighted to be the Head of School at the Paul Penna Downtown Jewish Day School. Amy is passionate about excellent instruction and working with teachers to be the talented professionals they are destined to be. Amy holds a PhD and an MA from the University of Toronto. When Amy is not at work she can be found on long-distance bike rides, pondering the larger issues facing education.
[fusebox_track_player url="https://traffic.libsyn.com/secure/better/Amy_is_building_her_dream_school.mp3″ artist="Amy Platt" title="Amy is building her dream school" social_twitter="true" social_facebook="true" social_linkedin="true" social_pinterest="true" social_email="true" ]
[fusebox_transcript]
Show Highlights
A safe space to iterate, incubate and sometimes vent 

Create viable opportunities to stretch and create community

Focus your purpose and live your "why" as a values-based educator

Worthy rivals help you level up 

Collaborators versus seeing others as like competitors

How to leverage and mark the moment

Really know yourself and stand strong as a leader

"Just walk up the dumb escalator" as a way to get unstuck

Master the Mastermind experience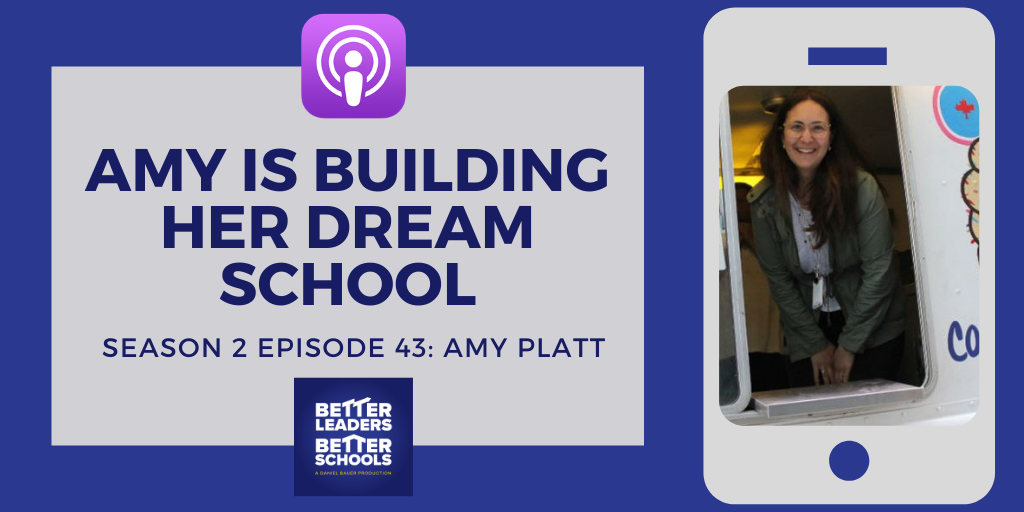 "How do I own that cause and how do I help other people see the work that we're doing as cause worthy? I might be in this work now, but I'm surely not going to finish it. I might be opening this middle school, but if all goes well, it will be my legacy to the next leader to continue to build this middle school."
– Amy Platt 
Amy Platt's Resources & Contact Info:
Looking for more?
SHOW SPONSORS:
HARVARD GRADUATE SCHOOL OF EDUCATION
Transform how you lead to become a resilient and empowered change agent with Harvard's online Certificate in School Management and Leadership. Grow your professional network with a global cohort of fellow school leaders as you collaborate in case studies bridging the fields of education and business. Apply today at http://hgse.me/leader.
The SMART Learning Suite Online allows teachers to create, store, and deliver lessons from anywhere – no SMART Board required – and your students can access and engage with your content from any web browser on any device. And it connects with tools you already use like Google Classroom and Microsoft Teams.
The research-backed EdTeach Assessment Tool will help Ruckus Makers discover their strengths and best area of focus across 5 different modules, including leadership and remote learning. You'll get a personalized report that shows where you stack up against other leaders, and maps some areas of focus that will have the greatest impact for you. 
Organized Binder is the missing piece in many classrooms. Many teachers are great with the main content of the lesson. Organized Binder helps with powerful introductions, savvy transitions, and memorable lesson closings. Your students will grow their executive functioning skills (and as a bonus), your teachers will become more organized too. Help your students and staff level up with Organized Binder.
Copyright © 2021 Twelve Practices LLC
(Visited 329 times, 1 visits today)