Scott L. Steward is an international business owner (musicspool.com and Genius Lab, Inc.), a youth tech educator, podcast co-host (Money, Sex, Gen X), and author (A Book of Stewism's: 31 Ways to Improve Your Life). Scott is squarely focused on preparing young people for jobs that don't exist yet, especially in the Black and Latinx communities.
Scott has a strong and vast business school education and he wants to share all of his knowledge. He has more than 30 years of business experience from working with fortune 500 companies like Marriott International, MCI Wireless, and Hertz Car Rental. He's been running his own businesses for more than 30 years.
Scott is a Master Certified, 18-time award winning teacher of Entrepreneurship and Technology. His focus is on preparing the next generation of business owners to generate generational wealth and create global impact. 
[fusebox_track_player url="https://traffic.libsyn.com/secure/better/Building_a_genius_lab.mp3″ artist="Scott Steward" title="Building a genius lab" social_twitter="true" social_facebook="true" social_linkedin="true" social_pinterest="true" social_email="true" ]
[fusebox_transcript]
Show Highlights
Ownership, closed and flexible mindsets

Don't be a  BlockBuster Video School

Be an "unemployable" leader

Actively cognizant of systemic racism 

Vital educational confidence = Genius Lab  

Change agents challenge what's on paper with innovation

Breaking economic deficiency in communities

Relationship between business profit, technology and Non-profit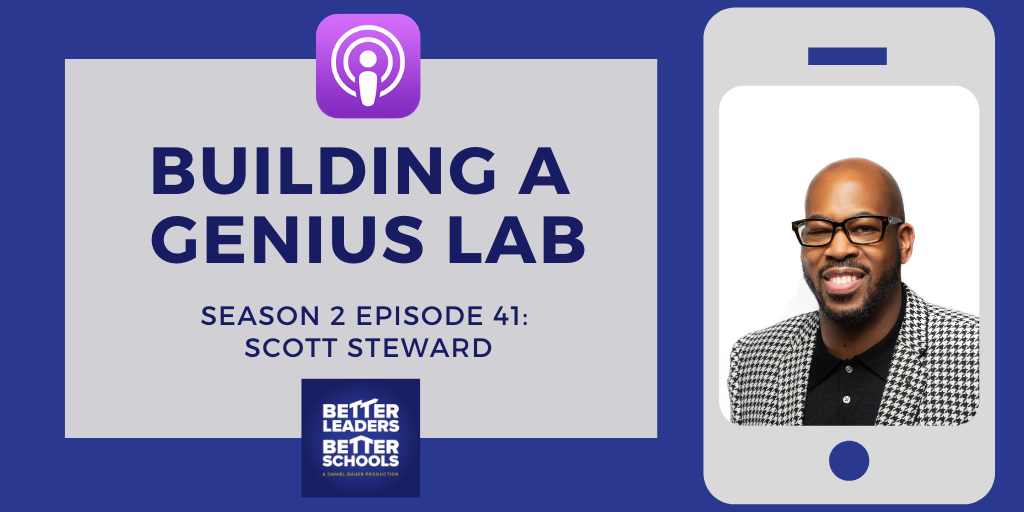 "Remember you play a role in how we guide this next generation of learners. Number one, you are preparing these young people for jobs that don't even exist yet. Keep that in mind. Don't stay in the box.There is no box."
– Scott L Steward
Scott Steward's Resources & Contact Info:
Looking for more?
SHOW SPONSORS:
HARVARD GRADUATE SCHOOL OF EDUCATION
Transform how you lead to become a resilient and empowered change agent with Harvard's online Certificate in School Management and Leadership. Grow your professional network with a global cohort of fellow school leaders as you collaborate in case studies bridging the fields of education and business. Apply today at http://hgse.me/leader.
The SMART Learning Suite Online allows teachers to create, store, and deliver lessons from anywhere – no SMART Board required – and your students can access and engage with your content from any web browser on any device. And it connects with tools you already use like Google Classroom and Microsoft Teams.
The research-backed EdTeach Assessment Tool will help Ruckus Makers discover their strengths and best area of focus across 5 different modules, including leadership and remote learning. You'll get a personalized report that shows where you stack up against other leaders, and maps some areas of focus that will have the greatest impact for you. 
Organized Binder is the missing piece in many classrooms. Many teachers are great with the main content of the lesson. Organized Binder helps with powerful introductions, savvy transitions, and memorable lesson closings. Your students will grow their executive functioning skills (and as a bonus), your teachers will become more organized too. Help your students and staff level up with Organized Binder.
Copyright © 2021 Twelve Practices LLC
(Visited 263 times, 1 visits today)