Jen is a local here in Atlanta (an "ATLien") where she is on a mission to make education humanizing and equitable for ALL learners. Shortly after earning her BS.Ed. at UGA, Jen's fire for student-centered learning was ignited on a year-long adventure in New Zealand.  There she taught in a progressive public charter school, trained in student-directed and inquiry-based learning strategies, and began partnering with students to help them take ownership of their educational journeys. She brought those learnings back to the US where she helped found and later led a small private school to meet the needs of neurodiverse students in innovative ways.  As her passion for both leadership and educational equity grew, she went on to earn a M.Ed. in Urban Teacher Leadership and an Ed.S. in Educational Leadership from Georgia State University.
After a decade of teaching, coaching educators, and leading in both the private and public school sectors, Jen recently took the leap into her latest endeavor as a Co-Creator, aspiring to close equity gaps in the classroom by making great professional development more accessible for all educators. Co-CreatED.org is the first marketplace platform in the PD industry, connecting school leaders directly with professional development providers, so they can easily book the trainings their teachers need.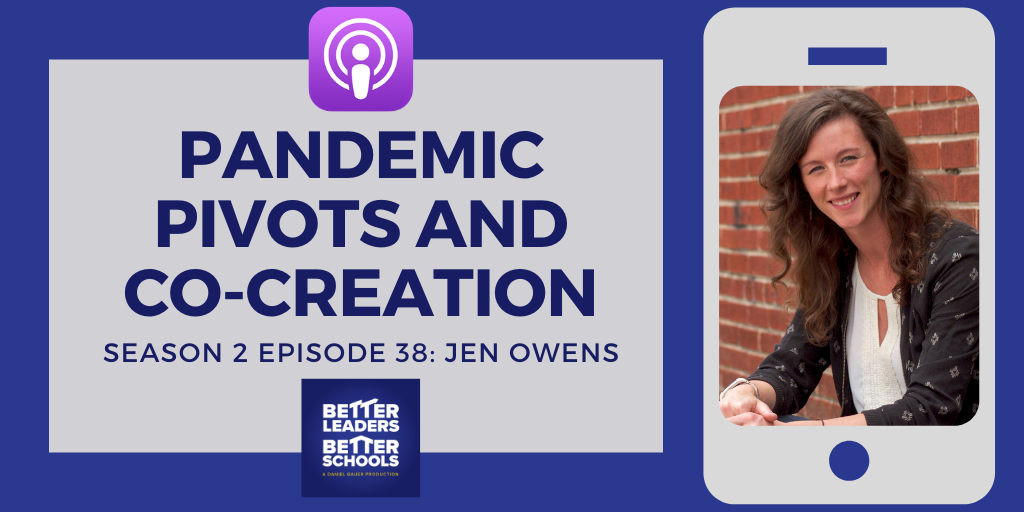 Show Highlights
Educator activism is embed into the fabric of what you do 
Thrive in adversity with the pandemic pivot 
Make high quality education a reality with a Trust License
The BIG building questions you need to ask to move progress forward.
Candid conversation about a female in a male dominated industry
 Everybody needs a Wolf pack to reconceptualize self-care
Co-create is not a buzzword but a foundation in the learning journey
"That's an interesting way to put it. I've never heard it framed around boredom and that humans can be attracted to the next shiny thing, like go after the exciting thing. Sometimes the most impactful thing we can do is small, consistent actions steadily over time. And that's not sexy. That's not the thing you get excited about, but it's effective."
– Jen Owen
Jen Owen's Resources & Contact Info:
Looking for more?
SHOW SPONSORS:
HARVARD GRADUATE SCHOOL OF EDUCATION
Transform how you lead to become a resilient and empowered change agent with Harvard's online Certificate in School Management and Leadership. Grow your professional network with a global cohort of fellow school leaders as you collaborate in case studies bridging the fields of education and business. Apply today at http://hgse.me/leader.
The SMART Learning Suite Online allows teachers to create, store, and deliver lessons from anywhere – no SMART Board required – and your students can access and engage with your content from any web browser on any device. And it connects with tools you already use like Google Classroom and Microsoft Teams.
The research-backed EdTeach Assessment Tool will help Ruckus Makers discover their strengths and best area of focus across 5 different modules, including leadership and remote learning. You'll get a personalized report that shows where you stack up against other leaders, and maps some areas of focus that will have the greatest impact for you. 
Organized Binder is the missing piece in many classrooms. Many teachers are great with the main content of the lesson. Organized Binder helps with powerful introductions, savvy transitions, and memorable lesson closings. Your students will grow their executive functioning skills (and as a bonus), your teachers will become more organized too. Help your students and staff level up with Organized Binder.
Copyright © 2021 Twelve Practices LLC
(Visited 127 times, 1 visits today)