Maureen O'Shaughnessy, EdD, is a career educational activist with over 30 years of transforming learning in schools to better serve all students.
She is the founding director of Leadership Preparatory Academy, a nonprofit progressive micro-school in Washington State. With a master's degree in educational administration and a doctorate degree in educational leadership, she has an extensive understanding of the components needed to transform the education system.
Dr. O'Shaughnessy is the author of Creating Micro-Schools for Colorful Mismatched Kids: A Step-by-Step Process that Empowers Frustrated Parents to Innovate Education and has served as head of school and principal internationally in countries such as Kuwait, Hungary, and Ecuador. Weaving in a strong emphasis on service and leadership at each school, she has been an educational change agent across the globe. And now as founder of Education Evolution, she aims to disrupt the education climate as we know it to help ensure each child is seen, heard and valued and met where they are academically, socially and emotionally.
Show Highlights
Mental health must trump any academic gains this year 

Benefits and challenges of running a micro-school 

How to avoid copping out when the shoe doesn't fit your school

Kindred spirits are your windows of opportunity. Find them, make it official and support them despite uncomfortable colleagues. 

Valuing outcomes and not requirements

 Indicators that determine if students are thriving and not surviving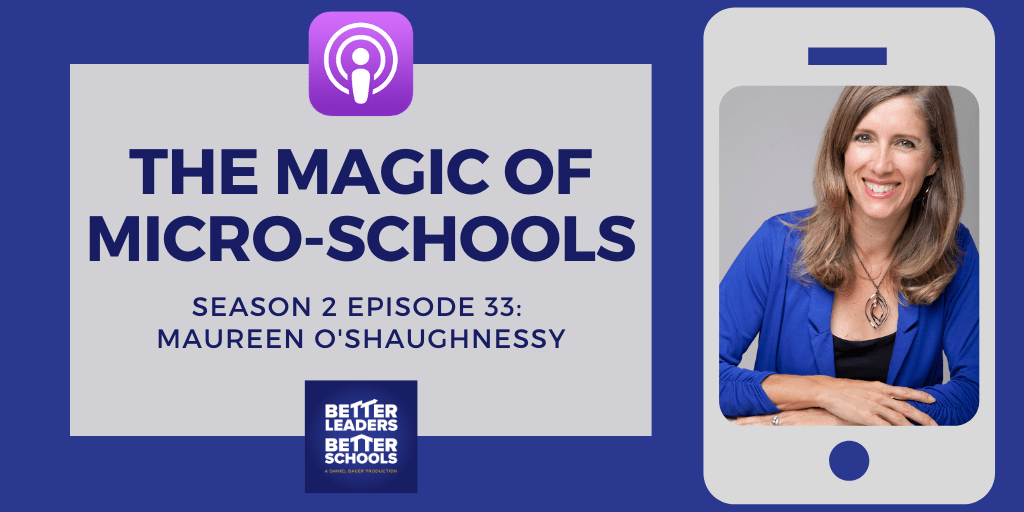 "Our kids are not thriving. And what's the purpose of high school? What's the purpose of school at all, if we're not loving up these kids and then if they're not going out and thriving and loving up the world. We're seeing more hate crimes or seeing more serial murders. School could be a part of helping kids thrive and it's not happening often enough.
Being human is one of the best gifts we can give our teachers and it gives them permission to be human too."
– Maureen O'Shaughnessy
Maureen O'Shaughnessy Resources & Contact Info:
Looking for more?
SHOW SPONSORS:
HARVARD GRADUATE SCHOOL OF EDUCATION
Transform how you lead to become a resilient and empowered change agent with Harvard's online Certificate in School Management and Leadership. Grow your professional network with a global cohort of fellow school leaders as you collaborate in case studies bridging the fields of education and business. Apply today at http://hgse.me/leader.
Organized Binder is an evidence-based RTI2 Tier 1 universal level solution

Focuses on improving executive functioning and noncognitive skills

Is in direct alignment with the Universal Design for Learning (UDL) framework

Is an integral component for ensuring Least Restrictive Environments (LRE)
You can learn more and improve your student's success at https://organizedbinder.com/
SMART Technologies is the proud sponsor of Better Leaders Better Schools and has two amazing offer for Ruckus Makers.
The SMART Learning Suite Online allows teachers to create, store, and deliver lessons from anywhere – no SMART Board required – and your students can access and engage with your content from any web browser on any device. And it connects with tools you already use like Google Classroom and Microsoft Teams.
Learn more at http://www.smarttech.com/learningsuite
The research-backed EdTeach Assessment Tool will helps Ruckus Makers discover their strengths and best area of focus across 5 different modules, including leadership and remote learning.  The tool inspires collaboration with your colleagues, and provides massive value whether you complete one or all five of the modules. 
You'll get a personalized report that shows where you stack up against other leaders, and maps some areas of focus that will have the greatest impact for you. 
Take the assessment at http://www.smarttech.com/profile
Copyright © 2021 Twelve Practices LLC
(Visited 437 times, 1 visits today)