Dr. Darnisa Amante-Jackson is an educational and racial equity strategist that is deeply committed to the studies of culture; innovation; equity and adult development. Since earning her master's degree in Socio-cultural Anthropology from Brandeis University, and her doctorate from Harvard's Educational Leadership Doctorate (Ed.L.D.), Dr. Amante-Jackson has honed her knowledge to transform organizations, nonprofits and schools on issues of equity, diversity, inclusion, and belonging.
Dr. Amante-Jackson currently serves as the President/Founder of The Disruptive Equity Education Project (DEEP) and DCCP (DEEP Corporate Consulting Partners) where she supports superintendents, teachers, principals, non profit leaders, corporations, commercial real estate and boards to achieve equitable culture and to systematically dismantle oppression. Additionally, Dr. Amante-Jackson serves at the Tri-Chair to the RIDES Project, at Harvard's Graduate School of Education. With RIDES, Dr. Amante-Jackson supports systemic and school based cultural change and coaching for districts, nationally.
Show Highlights
The gap between diversity and inclusion is as wide as the Grand Canyon, but a bridge exists

Proven frameworks, roadmaps and data to measure impact paired with implicit bias training 

Make your learning community feel championed for and communicate areas of marginalization they experience

"Belonging" is actually the sweet spot for this pandemic

Sit successfully in the uncertainty with these practical tools that work both virtually and in person

Diversity, belonging, inclusion, and equity, DBIE has to be the table and you sit everything on top of

Why urgency with the absence of competency is harmful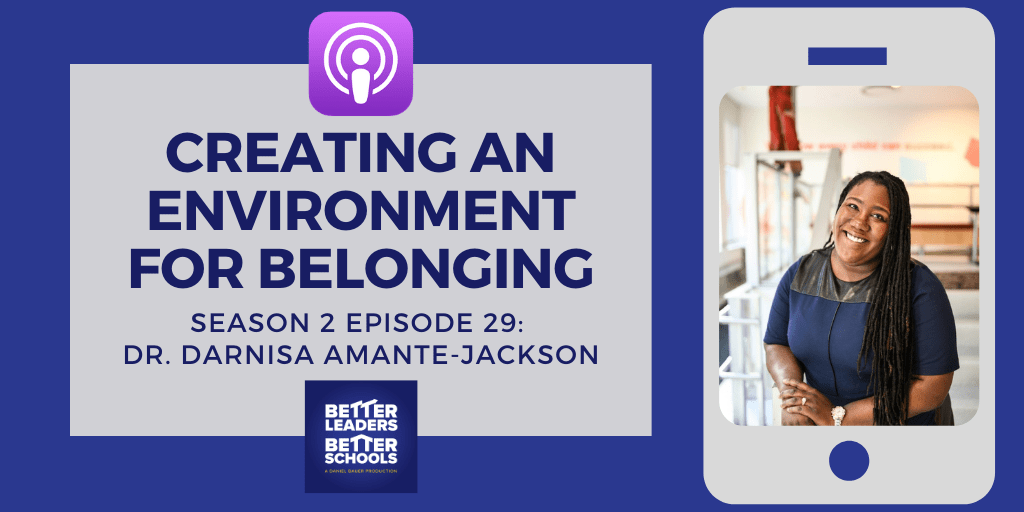 "Belonging is the greatest thing that closes the gap. Please know that gap didn't arrive in one school year and it's not going to go away in one school year. Your commitment to belonging will continue to bring your community together, which is what you will need to close the gap one day to do culturally responsive teaching. "
Dr Darnisa Amante-Jackson's Resources & Contact Info:
Looking for more?
SHOW SPONSORS:
Organized Binder is an evidence-based RTI2 Tier 1 universal level solution

Focuses on improving executive functioning and noncognitive skills

Is in direct alignment with the Universal Design for Learning (UDL) framework

Is an integral component for ensuring Least Restrictive Environments (LRE)
You can learn more and improve your student's success at https://organizedbinder.com/
SMART Technologies is the proud sponsor of Better Leaders Better Schools and has two amazing offer for Ruckus Makers.
The SMART Learning Suite Online allows teachers to create, store, and deliver lessons from anywhere – no SMART Board required – and your students can access and engage with your content from any web browser on any device. And it connects with tools you already use like Google Classroom and Microsoft Teams.
Learn more at http://www.smarttech.com/learningsuite
The research-backed EdTeach Assessment Tool will helps Ruckus Makers discover their strengths and best area of focus across 5 different modules, including leadership and remote learning.  The tool inspires collaboration with your colleagues, and provides massive value whether you complete one or all five of the modules. 
You'll get a personalized report that shows where you stack up against other leaders, and maps some areas of focus that will have the greatest impact for you. 
Take the assessment at http://www.smarttech.com/profile
Copyright © 2020 Twelve Practices LLC
(Visited 813 times, 1 visits today)