Tristan White is the founder & CEO of The Physio Co, a unique healthcare business that ranked #1 on BRW's list of Australia's 50 Best Places to Work in 2014. The Physio Co has ranked as one of Australia's 50 Best Places to Work for ten consecutive years (2009-2018), along with being named one of the Best Workplaces in Asia from 2015-2018.
Tristan believes we spend such a huge part of our lives working that we have to find a way to enjoy it. In his book Culture is Everything: The Story and System of a Start-Up that Became Australia's Best Place to Work, Tristan shares his 19-step system for building a great place to work. His approach is simple, centered around 4 basic pillars: Discover the Core, Document the Future, Execute Relentlessly, and Show More Love. Tristan loves to share what he's learned along his entrepreneurial journey, and he does just that through his podcast, Thing Big, Act Small, as well as from the stage.
A captivating keynote speaker, Tristan shares his insight with audiences at conferences and corporate events around the globe.
Show Highlights
Culture is something that can be systemized. 19 steps that build a great place to work and learn

The best ways to motivate your team towards your desired culture

If you want to build a strong foundation, start with the harder work

The courage to forfeit funding will build world-class culture that supports your mission 

Join a perfect club for leaders who are forever growing and applying themselves to become the best versions of themselves 

Person centered approach engages a better service to help motivate people to set and smash meaningful goals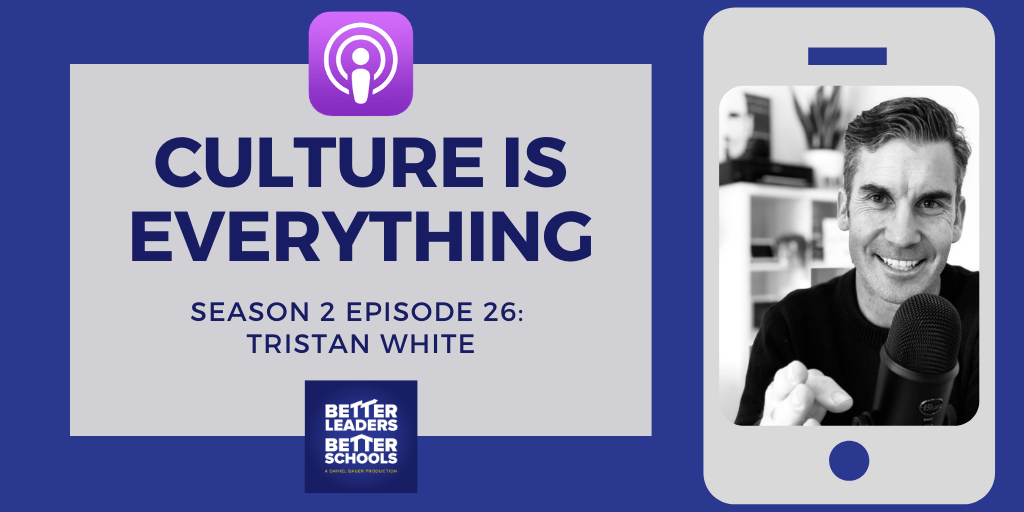 "'Show love' is as simple as it sounds, but don't be a manager or leader that manages by catching people, doing something wrong and only speaking to people when they're not quite living up to expectations. We need to be leaders that catch people doing something right, recognize it, tell the story, acknowledge people in the moment."
-Tristan White
Tristan White's Resources & Contact Info:
Looking for more?
SHOW SPONSORS:
Organized Binder is an evidence-based RTI2 Tier 1 universal level solution

Focuses on improving executive functioning and noncognitive skills

Is in direct alignment with the Universal Design for Learning (UDL) framework

Is an integral component for ensuring Least Restrictive Environments (LRE)
You can learn more and improve your student's success at https://organizedbinder.com/
SMART Technologies is the proud sponsor of Better Leaders Better Schools and has two amazing offer for Ruckus Makers.
The SMART Learning Suite Online allows teachers to create, store, and deliver lessons from anywhere – no SMART Board required – and your students can access and engage with your content from any web browser on any device. And it connects with tools you already use like Google Classroom and Microsoft Teams.
Learn more at http://www.smarttech.com/learningsuite
The research-backed EdTeach Assessment Tool will helps Ruckus Makers discover their strengths and best area of focus across 5 different modules, including leadership and remote learning.  The tool inspires collaboration with your colleagues, and provides massive value whether you complete one or all five of the modules. 
You'll get a personalized report that shows where you stack up against other leaders, and maps some areas of focus that will have the greatest impact for you. 
Take the assessment at http://www.smarttech.com/profile
Copyright © 2020 Twelve Practices LLC
(Visited 285 times, 1 visits today)