With over 10 years of progressive leadership experience in the development and oversight of academic programs, policies, and initiatives to promote student growth and achievement, I am an educational administration professional with expertise in equity-centered educational leadership.
Through my leadership, I have increased teacher retention to 100%, decreased chronic absenteeism to under 10%, reduced referrals by 70%, lowered behavioral infractions by 15%, and reduced disproportionality on every academic data metric for all subgroups.
Although I'm proud of how far I have come so far, I am currently working on earning my Ed.D. in International and Multicultural Education with an emphasis in human rights and critical race theory – my work is just getting started.
[fusebox_track_player url="https://traffic.libsyn.com/secure/better/Second-order_thinking_and_implemeting_difficult_work.mp3″ title="Second-order thinking and implemeting difficult work" artist="Ashlee Gutierrez" social_linkedin="true" social_pinterest="true" social_email="true" ]
[fusebox_transcript]
Show Highlights
Proactive leaders look at adaptive challenges to anticipate consequences down the road to truly fix problems

Shared success for female leaders of color with an emergency thread 

Not always having the answer is the right answer for service leadership

When in doubt, talk to kids, kids are capable of being a part of every conversation that has to do with school

Focus a less on data and more on community building by co-creating protocols for advocates on PLCs and scores will skyrocket 

Pivot focuses on creating a culturally and linguistically sustaining teaching environment, not just the pedagogy, but retaining

Ashley shares how Teach FX gives ownership with 10K the impact on reflective, impactful teaching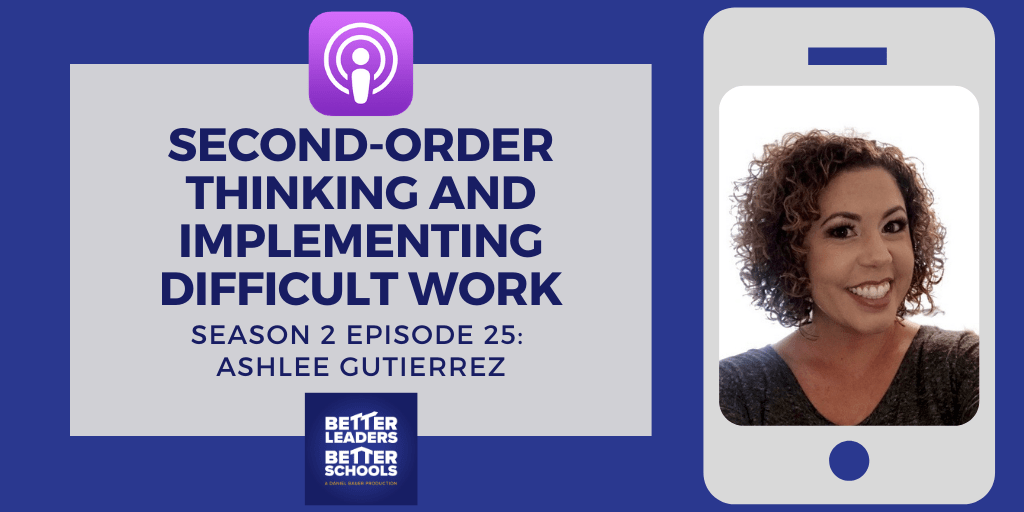 "Teachers are not always considered professionals in the way that they are in other fields. I think it's important for us to kind of reclaim the fact that teaching is a complex art and science that's unlike any other role. I know teachers are professionals and they should be able to drive their development in the same way that you would in the tech field or any other field."
"I'm just really excited about moving into a position where I can be supporting white folks in equity work. I think there's a lot of people who are focused on equity work in urban spaces. It can often feel like you're in an echo chamber where you're saying things to people who agree with you already, and you're deepening each other's understanding, but there's something really interesting to me about doing this work in a primarily white space and thinking about the power of cultivating a generation of co-conspirators who truly understand the history of our country, truly understand the dismantling work that's ahead of us and are equipped to execute that dismantling work. I think that's really powerful."
– Ashley Gutierrez
Ashlee Gutierrez's Resources & Contact Info:
Looking for more?
SHOW SPONSORS:
Organized Binder is an evidence-based RTI2 Tier 1 universal level solution

Focuses on improving executive functioning and noncognitive skills

Is in direct alignment with the Universal Design for Learning (UDL) framework

Is an integral component for ensuring Least Restrictive Environments (LRE)
You can learn more and improve your student's success at https://organizedbinder.com/
School leaders know that productive student talk drives student learning, but the average teacher talks 75% of class time! TeachFX is changing that with a "Fitbit for teachers" that automatically measures student engagement and gives teachers feedback about what they could do differently. 
Learn more about the TeachFX app and get a special 20% discount for your school or district by visiting teachfx.com/blbs.
Copyright © 2020 Twelve Practices LLC
(Visited 434 times, 1 visits today)