Dr. Jeremiah Newell is the founder and CEO of MAEF Public Charter Schools, which has opened the first public charter school in the state of Alabama. He has previously taught middle and high school, led innovative secondary school models for disconnected youth, directed secondary school turnaround efforts, and served as a Harvard Fellow for the Rhode Island Department of Education.
He believes transforming public education is one of the most important issues of our time. He is committed to being a part of the solution and wants to learn from and partner with colleagues of all backgrounds to use our collective imagination, ingenuity, and perseverance to give young people their best possible start to adulthood. 
[fusebox_track_player url="https://traffic.libsyn.com/secure/better/Reimagining_Schools_to_Serve_Disconnected_Students.mp3″ artist="Jeremian Newell" title="Reimagining Schools to Serve Disconnected Students" social_twitter="true" social_facebook="true" social_linkedin="true" social_pinterest="true" social_email="true" ]
[fusebox_transcript]
Show Highlights
Use the fire in your belly to ignite change  

Earn currency with young people for a responsive learning environment

Vision without action is a hallucination

Unpacking competency based learning models 

Replace the traditional role of a counselor with intensive therapeutic counseling

The questions you need to ask for innovative, equitable education 

Education is a communal process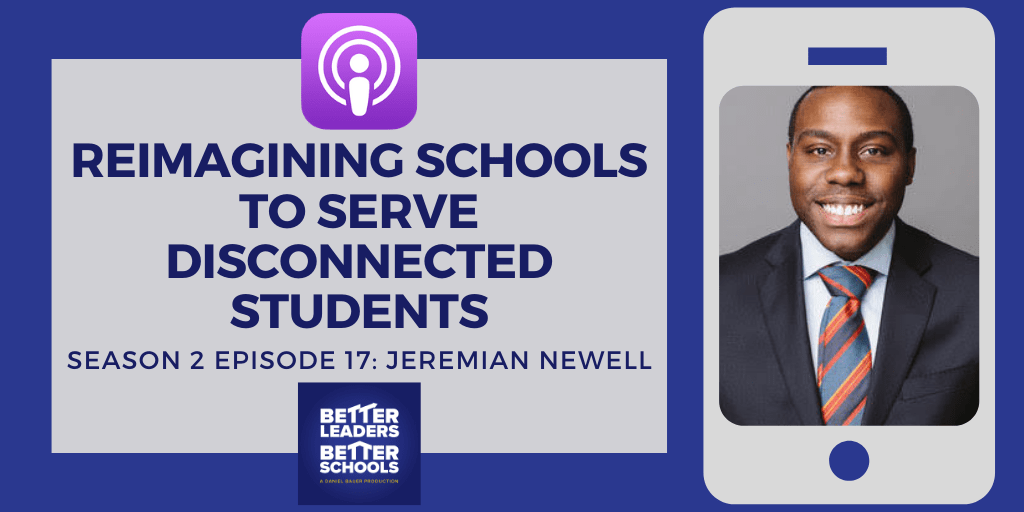 "As an educator, we have a responsibility to create the holding environment for young people to make change. That doesn't mean directing them to what that change should be. It's literally creating a space where they can learn and grow."
– Jeremian
Jeremian Newell's Resources & Contact Info:
Looking for more?
SHOW SPONSORS:
Organized Binder is an evidence-based RTI2 Tier 1 universal level solution

Focuses on improving executive functioning and noncognitive skills

Is in direct alignment with the Universal Design for Learning (UDL) framework

Is an integral component for ensuring Least Restrictive Environments (LRE)
You can learn more and improve your student's success at https://organizedbinder.com/
School leaders know that productive student talk drives student learning, but the average teacher talks 75% of class time! TeachFX is changing that with a "Fitbit for teachers" that automatically measures student engagement and gives teachers feedback about what they could do differently. 
Learn more about the TeachFX app and get a special 20% discount for your school or district by visiting teachfx.com/blbs.
Copyright © 2020 Twelve Practices LLC
(Visited 210 times, 1 visits today)