My experience in education includes 16 years teaching high school social studies, 6 years as a high school Assistant Principal, and I am now in my 5th year as Principal at Harbor High School in Santa Cruz, California. I have always been drawn to public education and see it as part of the larger project that includes protecting our democracy and breaking down economic and social barriers that are embedded in our society and the educational system.
Show Highlights
A public school truly free from fees for students and parents

Pilot your great ideas for relevant data

Develop a faculty mindset regarding rigorous courses

Curriculum that pushes depth of learning for all students

The internal conversation every Ruckus Maker needs to have

How to move through discomfort for more equitable outcomes

Why Tracey has used Organize Binder for the past 10 years 
[fusebox_track_player url="https://traffic.libsyn.com/secure/better/Equity_in_school-_The_moral_imperative_to_provide_for_your_students.mp3″ artist="Tracey Runeare" title="Equity in school: The moral imperative to provide for your students" social_twitter="true" social_facebook="true" social_linkedin="true" social_pinterest="true" social_email="true" ]
[fusebox_transcript]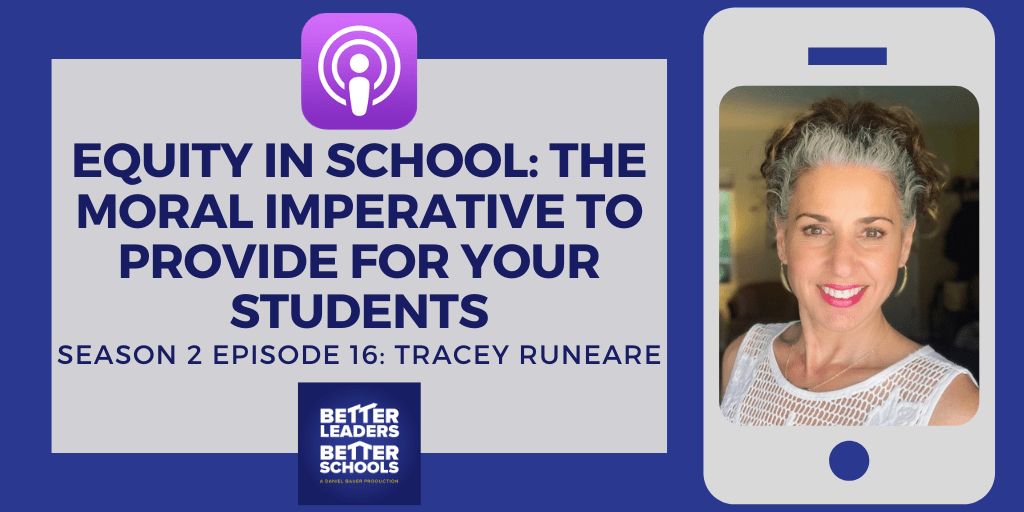 "You have to think about all of the different things that kids are dealing with when you're coming up with ideas on how to help them. If there are some kids left out, then we have to think again. How can we really have Student X access all of the things that we're trying to offer. I think that for a long time it's been okay for students to be left out as long as most of your students are doing okay."
– Tracey Runeare
Tracey Runeare's Resources & Contact Info:
Looking for more?
SHOW SPONSORS:
Organized Binder is an evidence-based RTI2 Tier 1 universal level solution

Focuses on improving executive functioning and noncognitive skills

Is in direct alignment with the Universal Design for Learning (UDL) framework

Is an integral component for ensuring Least Restrictive Environments (LRE)
You can learn more and improve your student's success at https://organizedbinder.com/
School leaders know that productive student talk drives student learning, but the average teacher talks 75% of class time! TeachFX is changing that with a "Fitbit for teachers" that automatically measures student engagement and gives teachers feedback about what they could do differently. 
Learn more about the TeachFX app and get a special 20% discount for your school or district by visiting teachfx.com/blbs.
Copyright © 2020 Twelve Practices LLC
(Visited 555 times, 1 visits today)