Jaime Casap is the Chief Education Evangelist at Google. Jaime evangelizes the potential of digitalization as an enabling capability in pursuit of promoting inquiry-based learning models. Jaime collaborates with school systems, educational organizations, and leaders focused on building innovation into our education policies and practices.
In addition to his role at Google, Jaime serves as an advisor to dozens of organizations focused on learning, skill development, and the future of work. He is the coauthor of "Our First Talk About Poverty," as a way to talk to children about poverty. Jaime helped launch the Phoenix Coding Academy, a public high school in Phoenix, AZ, focused on computer science as part of an inquiry-based learning model. He teaches a 10th-grade communication class at the school. He also guest lectures at Arizona State University.
He speaks on education, digitalization, innovation, generation z, and the future of work at events around the world.
[fusebox_track_player url="https://traffic.libsyn.com/secure/better/Your_Past_Is_Your_Competitive_Advantage.mp3″ artist="Jaime Casap" title="Your Past Is Your Competitive Advantage" social_twitter="true" social_facebook="true" social_linkedin="true" social_pinterest="true" social_email="true" ]
[fusebox_transcript]
Show Highlights
Reality distortion field.  Lean into your voice

Helping students use their life experiences and circumstances as a competitive advantage. 

Vision isn't good enough without these action items 

It is the time of the Ruckus Maker. Are you taking advantage?

The biggest risk in hiring.  How to "future proof" your schools.

Moving students from a consumer, to more critical thinker, and designer by teaching them how technology functions

Curriculum that creates influencers that can actually change the system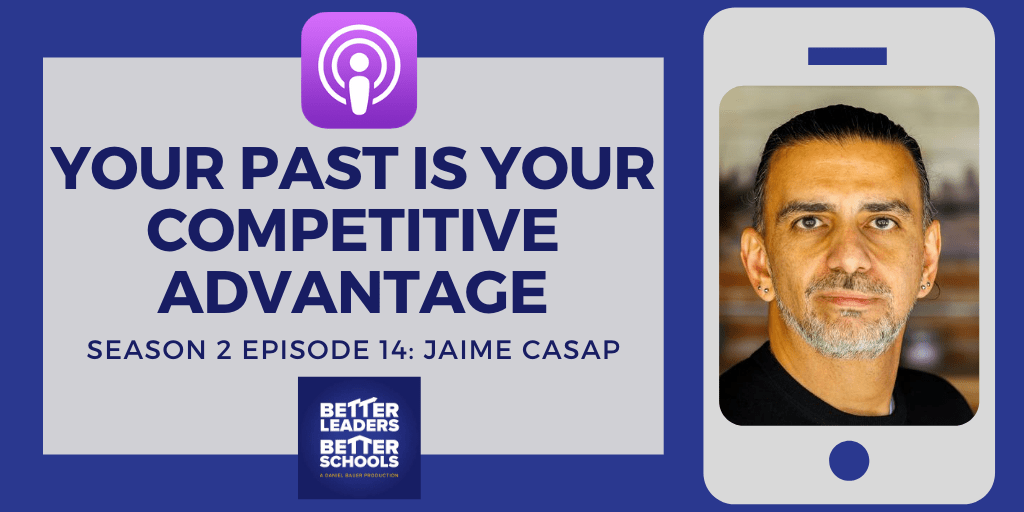 "I don't like talking about education, being broken as it's something that needs to be fixed. That's just too negative for me. I want to start with, what does the system need to look like for the future that we face and how do we take the best ideas that we've been able to build in education?"
– Jaime Casap
Jaime Casap's Resources & Contact Info:
Looking for more?
SHOW SPONSORS:
Organized Binder is an evidence-based RTI2 Tier 1 universal level solution

Focuses on improving executive functioning and noncognitive skills

Is in direct alignment with the Universal Design for Learning (UDL) framework

Is an integral component for ensuring Least Restrictive Environments (LRE)
You can learn more and improve your student's success at https://organizedbinder.com/
School leaders know that productive student talk drives student learning, but the average teacher talks 75% of class time! TeachFX is changing that with a "Fitbit for teachers" that automatically measures student engagement and gives teachers feedback about what they could do differently. 
Learn more about the TeachFX app and get a special 20% discount for your school or district by visiting teachfx.com/blbs.
Copyright © 2020 Twelve Practices LLC
(Visited 160 times, 1 visits today)