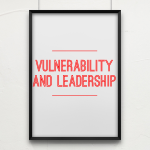 Honesty in Leadership
Be an Effective Leader
Is Honesty in Leadership such a bad thing?
The Wizard of Oz was only powerful as long as he hid behind a curtain.  Some leaders also subscribe to this mentality when "leading" their organizations.  It's almost as if these leaders think they are playing poker instead of leading people.  In my opinion, the best leadership is both honest and vulnerable.  This is the way I want to lead and when I'm at my best I do.  When a leader holds his cards to his chest he actually only playing leader instead of being a leader.
Better Leaders Better Schools will operate in a transparent way.
Vulnerability and Leadership
Be an Effective Leader
Why are we scared of vulnerability and leadership?
Sometimes leaders avoid vulnerability because they don't have all the answers and think that they need to have them.  This is a fallacy of leadership.  We do not need all the answers nor do we have to present everything in a polished way.
As the creator of this website, of course I want to put out great content that looks and reads professionally on this blog, but alas, there will be mistakes!
And I'm okay with mistakes because that is how I learn …
A paradox I have identified over the years is that the best leaders don't have all the answers.  In fact, the best leaders are able to demonstrate both vulnerability and leadership.
Vulnerability and Leadership Doesn't Have to Be a Unicorn
Today's post is also about the Better Leaders Better Schools podcast.  I want to be honest and vulnerable about the direction I'm heading with this.  I have identified the Top 50 high schools in the nation, Top 50 high schools in Illinois (where I reside), and the Top 50 elementary schools.  This week I'm going to reach out to these principals and ask them to be on the show.  I look forward to the response to my invitation; even if I land 50% of the guests I invite to the podcast, I know that I will be bringing high-quality insights to the education community.
I hope you are excited to learn from the nation's top leaders in education.  Join my newsletter (in the banner above) and I'll be sure to remind you when the Better Leaders Better Schools podcast is available for download.  I couldn't be more excited for the honesty in leadership my guests will surely demonstrate.  It is my mission to create a podcast that teaches my audience how to be an effective leader.
Skype: betterleadersbetterschools
Twitter / Facebook / Google+ / Linkedin
I teach leadership skills through a data-driven and emotionally healthy approach that gets others to perform their best.
Did you enjoy this post?
If you enjoyed this post on Vulnerability and Leadership – Be an Effective Leader, then I would be honored if you shared it on social media.