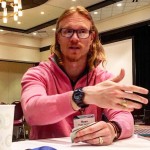 Better Leaders Better Schools guest Dr. Ryan Jackson is principal of the Academy of Energy and Power at Maplewood High School in Nashville, TN.  Ryan is the self-dubbed "Underdogs Advocate" and is committed to ensuring all students receive their civil right of a top-notch, cutting-edge education, regardless of race, class, gender or ethnicity.  Ryan also spoke at TedX Antioch in 2014.
In this episode you will learn:
How Ryan Jackson transformed from a copy writer to teacher to school leader.
The daily practice of restorative practices (justice).
The Competitive Teaching Model.
Communication is key.
How to move a school from chaos to clarity.
Harnessing the power of millennials.
Become a Patron
BECOME A PATRON OF THE SHOW FOR AS LITTLE AS $1/MONTH
Resources
Leadership Book: Switch: How to change things when change is hard.
Read Ryan's blog and watch his TedX talk.
Follow me and get behind the scenes access on SNAPCHAT!!!
Subscribe, Rate, and Review
DID YOU LIKE THE SHOW?  iTunes SUBSCRIBE HERE!
SHOW SOME LOVE: PLEASE LEAVE A 5-STAR RATING AND REVIEW
Freebies
Grad your FREE 15 Phrases of Effective School Leaders
text PHRASES to 33444 or click the link above.
Do you need accountability?
Text BETTERMASTERMIND to 33444
Daniel wants to work with you and help you accelerate your leadership development and increase your impact.
If you liked this interview with Dr. Ryan Jackson, then I would be honored if you shared on social media so we can reach more school leaders.  Thanks for listening!