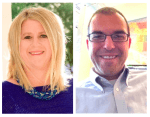 Both Rick Jetter  & Rebecca Coda (R&R) are educational disruptors and forward thinkers with a passion to support current and future educational leaders.  With their new book, Escaping the School Leaders Dunk Tank: How to Prevail When Others Want to See You Drown the mission is simple: break the glass ceiling to eliminate the status quo in order to ensure equity for ALL students. R&R have faced adversity in their careers and are willing to do whatever it takes to call out the "elephants" in the educational room so that we all can best serve kids.  They are also featured advice columnists for School Leaders Now.

Dr. Rick Jetter is currently a national educational consultant, author, speaker, and trainer.  He previously worked as a teacher, assistant principal, principal, assistant superintendent, and superintendent of schools.
Rebecca Coda, NBCT is currently a (K-8) STEM Coach, author, speaker, and professional development facilitator.  She is the founder of the Digital Native Network and has extensive experience serving as a curriculum specialist, a data & assessment support specialist, and a district technology integration program developer.  Rebecca will be relocating to Arkansas this summer to begin a Director of Curriculum position with the Cabot Public School District.
Rick Jetter and Rebecca Coda Show Highlights
What a nuclear warhead experience taught Rick about doing the right thing
It's all about prevailing – strategies for your health and success
You are going to get knocked down, but you will get back up
The importance of not taking moments of adversity personal
A hashtag you need to follow: #joyfulleaders
How to take care of not only yourself, but to shepherd your community as well
Power of gratitude and forgiveness 
Enemy vs Adversary
Intentional vs inadvertent dunkings
Rick Jetter and Rebecca Coda Resources
Did you enjoy today's show with Rick Jetter and Rebecca Coda? If you did, then please share on social media and leave a comment below!
Show Sponsors
School Spirit Vending: Hassle-free, year-round fundraising for your school. With School Spirit Vending, we do all the work, you just cash the check.
SSV is also giving away the Top 10 School Fundraising Ideas for 2017. Download the guide here.