Who is Richard Stearns?
He knows the traits of a good leader …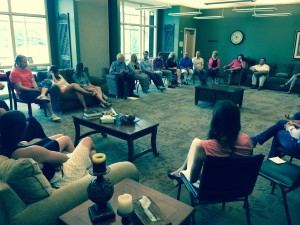 Recently I had the honor to sit with Richard Stearns, President of World Vision USA, in between church services.  I heard him speak about the complex challenge of poverty around the world with a follow-up Q & A session.
An earlier blog post describes what I've learned about leadership from running multiple marathons.  You can read that post here.
I don't run for the thrill or for physical fitness.  My focus is singular: I run as a sacrifice and ask others to support me by making a financial sacrifice.  Together we help provide a lifetime supply of clean water to children and help eradicate poverty in the world.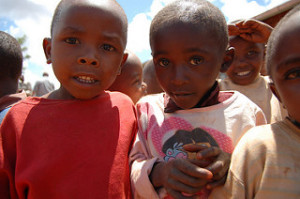 If that piques your interest and/or you're looking for a great tax-deductible way to fight poverty in the world then support me here.
My goal is to raise $10,000 which would provide 200 kids with a lifetime supply of clean water!
Leadership I learned fighting poverty
5 unique leadership tips
1) How do we mobilize others to join the movement (HINT: What is your why?  What is your vision?)
Richard Stearns spoke about the challenge of leading a large organization such as World Vision USA.  The key question he started with was, "How do we mobilize others to join the movement?"
He sees World Vision and fighting poverty around the world as a movement.  One in which many would eagerly want to join, but sometimes need a reminder.
Simon Sinek is now famous for the ideas of start with the why.  Richard Stearns reminded me of this.  Mobilization = inspiration.  Why is the work that we do so important?
2) Complex problems call for complex solutions.
World Vision fights poverty around the world.  My efforts running the Chicago Marathon are laser focused on providing clean water to kids that don't have access to it.  You can support me here (and it's tax-deductible!).
Fighting poverty around the world requires a complex solution.  In addition to clean water super-heroes must also consider when fighting poverty:
food
shelter
economic development
education
human trafficking
other cultural challenges
Improving education is also a complex problem.  Unfortunately, simple solutions are the norm.
These are called band-aids.
Poverty and education need complex solutions that deal with the root of the problem.  We can eliminate extreme poverty and we can improve education, but it takes times.
We're in it for the long haul.  Complex solutions are a multi year process.
The average World Vision ADP (area development programs) lasts 15 years, but can span 5 – 20 years.
I remember in grad school I was taught that change in a high school takes 4-8 years middle school and elementary school a little less (according to research).
The Blueprint for School Success was designed to get you started on your complex solution.
Education Masterminds are another great way to prepare for long-term change.  In education masterminds, school leaders engage in a weekly hour long session to discuss obstacles, barriers, and problems to a group of smart people going places.  A mastermind is important because it offers
support and encouragement
accountability
and better ideas then you can generate on your own
3) Talk to the community and listen
One reason World Vision's ADPs work so well is because they go to the community and demonstrate honor by listening.  Whenever they start a new project, they find the local leaders and listen to what problems they have.  Then and only then do they work with those leaders to find solutions to the stated problems.
As a leader, how often do you go into a situation and "know the solution"?  How often does that solution work?
Do you ever find yourself forming an argument or rebuttal before a person is done speaking?
If either of these scenarios are true, you aren't listening.
Listening and traits of a good leader are synonymous.
In year one of a principalship, don't barrage your staff with an extreme make-over and numerous initiatives.  Use the first year to form relationships and listen.  Identify the problems in the school and form a coalition to help solve all the problems.
If you do that, your staff will respect you and go the extra mile when you need them to attain stretch goals later in your term as principal.
4) Be known for what you Stand For not what you Stand Against
If you are not aware, World Vision is a Christian non-profit and that carries a lot of baggage.  Why is it that human beings can make such a mess a beautiful thing.
A key tenet of my faith is that God is love and that he is particularly fond of every individual on the planet because he created each one in his image.   There is a bond there that cannot be broken.  Each human being is a masterpiece that God created.
I love that idea.
What bothers me and Richard Stearns is that Christians so often can make a mess of their faith because they are known more for what they stand against instead of what they stand for.
<<<Quick side-note … most Christians have a poor understanding of the Bible and don't even know how to read the text … if they've even read it … maybe that is a start to this problem>>>
Imagine if Christians were known for what they stood for … like the idea that every life is sacred and God loves each one of us.  That is the motivation behind the work of World Vision and why I chose to partner with them to provide clean water for kids.  That is why I choose to fight poverty around the world by raising money that funds clean water projects.
What kind of leader will you be?
Are you going to be the type of leader that people remember because of what you stand for or what you stand against?  Only one of these ideas is compelling, collaborative, and an example of great leadership.
5) Focus on the positive
The facts can sometimes be grim.  Recently Richard Stearns was in Bangladesh visiting a brothel where girls as young as 10 years old are kidnapped and forced to be a sex worker.  Richard retold a story of one woman, now 30, who has been a sex worker for 20 years.  Her children she raises in the brothel.  Their future is to be a sex worker.
The brothel is across the street from the police station.  The police are frequent "customers."
I cried when I heard this story of poverty in the world.
We need to be cognizant of the grim reality we face.  Schools can improve.
But we'll never get there if we focus only on the negative reality.
It will crush us.
Leaders need to focus on the positive, especially in schools.  Communicate positive expectations and thank people for meeting those expectations.  Celebrate academic growth (no matter how big or small) and collaboration.  Focus on the positive and you're that much closer to winning.
My Call to Action
Of course I want you to implement these tips into your daily leadership routine and develop your traits of a good leader.  I want to see you succeed and your school improve.
I'd also love an opportunity to support you in that process and help hold you accountable through an education mastermind.
But most importantly, I'm raising money for clean water.
You can do just that with a $50 tax deductible gift.
Skype: betterleadersbetterschools
Twitter / Facebook / Google+ / Linkedin / Snapchat
Email:daniel@betterleadersbetterschools.com
I teach leadership skills through a data-driven and emotionally healthy approach that gets others to perform their best.
Did you enjoy this post?
If you enjoyed the post 5 Unique Leadership Tips I Learned from Richard Stearns, then I would be honored if you commented and shared on social media.
P.S. I wrote a short eBook highlighting what I learned from this year's WCA Global Leadership Summit.
"Water (Africa)" by Arsenie Coseac licensed via CC 2.0
"Makilu Kids" by Matt Berlin licensed via CC 2.0
"Closeup portrait of a group of business people laughing" by
Richard Foster
licensed via CC 2.0