HOW WE HELP SCHOOL LEADERS CREATE A REMARKABLE 3-YEAR SCHOOL VISION THAT ELEVATES THE LEARNING EXPERIENCE ON THEIR CAMPUS.
Using a simple formula that will increase the energy on campus, align your staff, and identify your next steps toward school success.
LIMITED TIME OFFER – ONLY $37 TODAY

LIST PRICE $250

YOU'RE SAVING $213.
What Is The Remarkable Vision Formula?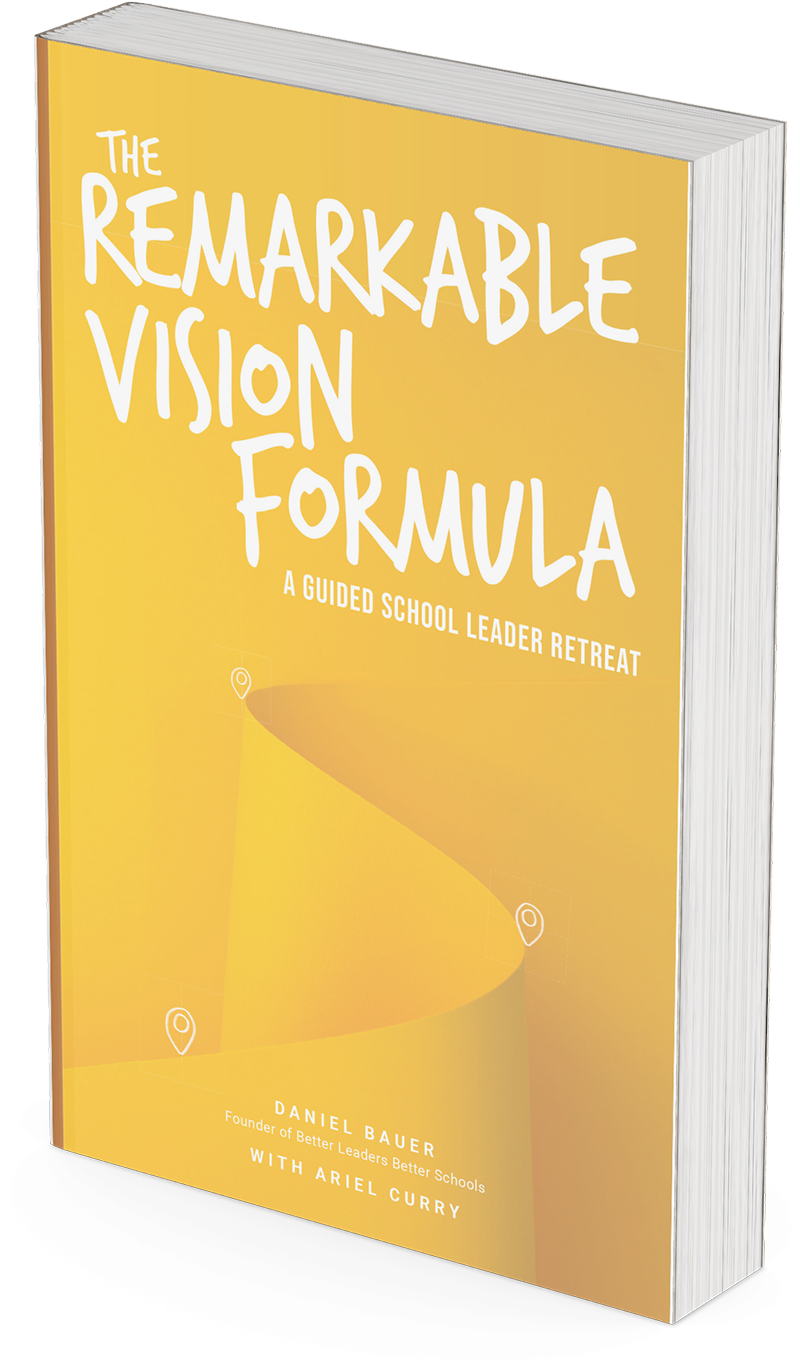 "The Remarkable Vision Formula" is an innovative approach to creating a meaningful vision that actually drives the work on your campus.
Don't expect to arrive at the school of your dreams if everyone is paddling whichever way they want. You need to give them a compelling vision for how to get there together.
Unfortunately, if you're like most principals, your current vision won't help you scale the impact you want to have on your students. But it's not your fault! You've been shown the wrong way to craft a meaningful vision, and that's all you know. Until now.
The Remarkable Vision Formula is the tool you need to turn your dream school into a reality.
A Remarkable Vision is not:
A catchy sentence or two that you can put on a wall, t-shirt, or coffee mug.
Something to check off your to-do list and never refer to again.
Generic. Another school would never have the same vision as yours.
A Remarkable Vision is:
A vivid picture of your ideal future that will motivate and align your staff's efforts.
A multi-page artifact you are proud to share far and wide.
A magnet that attracts top talent to your school and challenges your current staff to level up.
The Remarkable Vision Formula Is

A Proven Process For School Success

.
Before we created the Remarkable Vision Formula– we were doing vision work like everyone else. Googling "how to write a vision statement" and leading our school staff through a very uninspiring vision process.
So we decided to find a better way.
After reading as many books on vision and spending more than $10,000 on hiring coaches and consultants, we were able to put the BEST of what we learned into one package for growth-minded school leaders.
This new method became The Remarkable Vision Formula which we've taught to leaders during live, multi-day events…
…Which we recently recorded and made available to growth-minded school leaders for the first time ever in an on-demand format.
See below to learn how ​​The Remarkable Vision Formula works compared to the "traditional" way of creating a vision.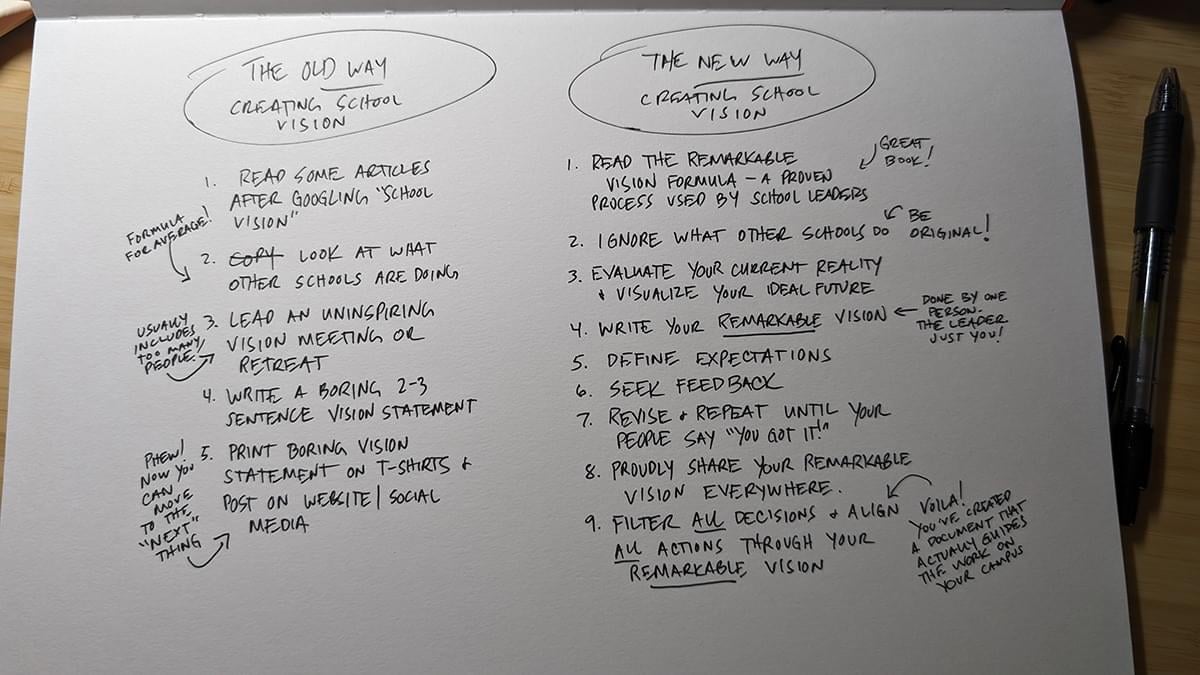 Here's What This Means For You And Your School.
Every school is built on one thing and one thing only – its ability to deliver an exceptional learning experience to its students…
One that gets better and better over time.
And the way to optimize your learning experience is to craft a "remarkable" vision for what that looks like.
It is often said that leadership is moving from "here" to "there."
And you've also heard, "What got us here, won't get us there."
Now those phrases might be leadership cliches. But they are also true.
In order to create an even better learning experience for your students, you must know where you are going.
When you have a vivid vision for where you want to go …
And a proven "formula" for mapping out how to get there …
You can then create something REMARKABLE on your campus.
The answers are inside you.
All you're missing is the formula for how to get it out of your head, onto paper, and the next steps for your organization to take.
Here is what a few of our clients said about The Remarkable Vision Formula…
Here's What Other School Leaders — Just Like You — Found Most Valuable Implementing The Remarkable Vision Formula
The Only Formula
You'll Ever Need

To Craft A Remarkable Vision That Optimizes The Learning Experience On Your Campus
We put everything we learned, everything we use ourselves in this book so you can learn from our mistakes, our wins, as well as benefit from all the time, effort, and money that has gone into the experience that makes up our multi-day workshops.
And we take pride in our reputation for over-delivering.
That's why when you invest in The Remarkable Vision Formula, you're not only getting the book, you're getting so much more…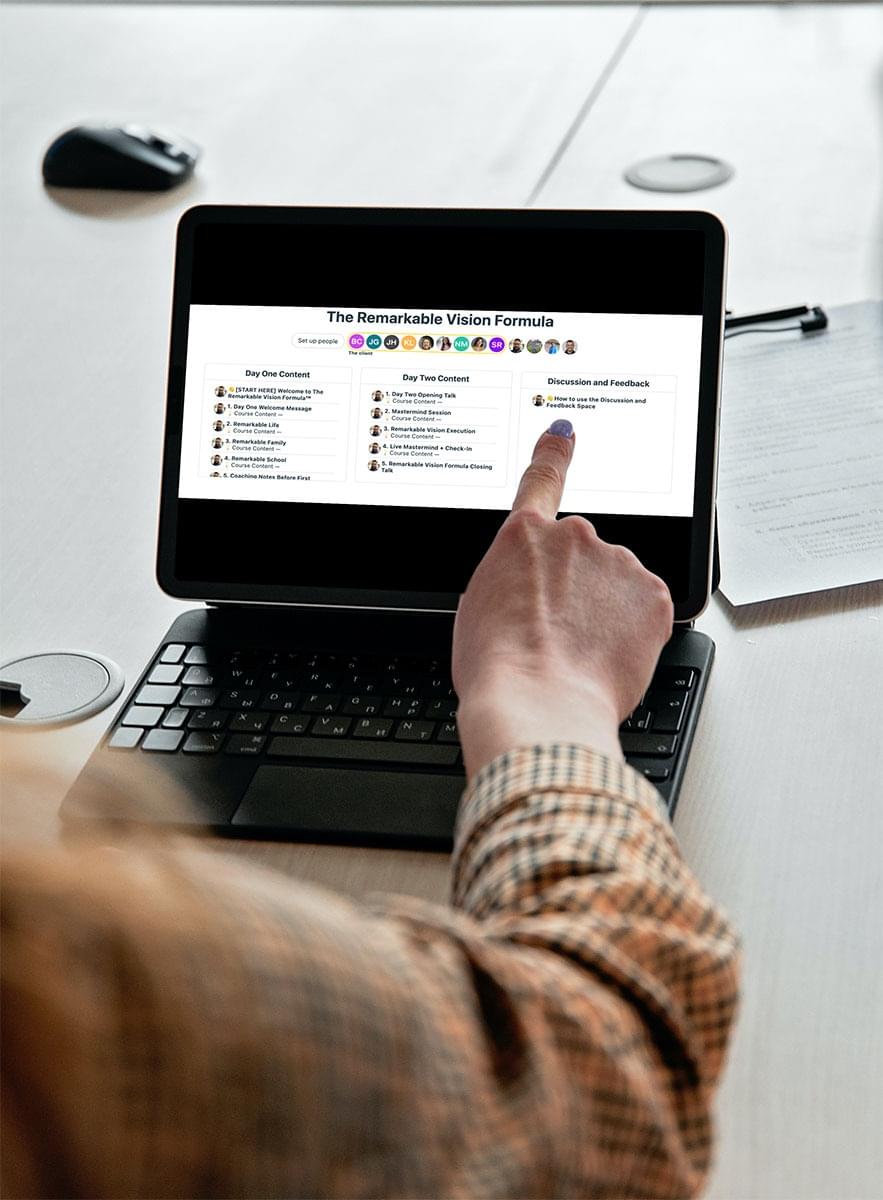 Here's What's Included When You Invest In The Remarkable Vision Formula Online Experience For Only $37.
The Remarkable Vision Formula ebook, print book, and audio book.
That's right! All versions of the book will be delivered to you when you invest in The Remarkable Vision Formula.
Note: Print books will only be shipped to Ruckus Makers in the USA. If you live outside the USA and are willing to pay shipping, we can coordinate how to get you a print book too.
All the teachings from our last 2-day event.
This includes 5+ hours of content diving deep into the Remarkable Vision Formula, how to execute your plan, Q & A, and live mastermind sessions.
There are a few advantages that you'll unlock with the online teaching:
You can see how Danny Bauer coaches other school leaders – just like YOU – in creating their Remarkable Vision for their school.
You can see how other school leaders – just like YOU – make meaning from the framework that Danny teaches.
For example, when you engage with the recorded content you'll:
See where school leaders get stuck (and how they get unstuck)
Hear what questions they have (maybe you'll have the same questions) and how those questions get answered
Learn how other school leaders are applying the ideas that Danny teaches
You won't get access to this wisdom anywhere else!
5 Tools to help you implement your Remarkable Vision.
The tools include:
My Workshop Focus: get clear on what you want to achieve while investing your time with the recorded content.
The Remarkable School Checklist: a 5-page checklist that will guide you through the exact categories and questions you'll want to answer when creating your Remarkable Vision Formula. Note: this checklist is NOT in the book. So if you go over to Amazon, Barnes & Noble, Target and other places online,

you will miss out

!
The School Leadership Scorecard™: A tool we use to help growth-minded school leaders elevate their impact. Use this tool as a template to create a staff scorecard for your campus.
Hot Seat Protocol™: this tool teaches you how to mastermind and solve your #1 challenge.
After Action Review: a great template for reviewing your progress and identifying high leverage activities to pursue.
Here's Everything Else You're Getting When You Invest In The Remarkable Vision Formula Online Experience For Only $37
BONUS: Ideal Week™ Training.
1000+ school leaders have taken this 30-minute training to learn how to
live
and
lead
on their own terms.
BONUS: Delegation Masterclass. This is the last training you'll ever need on delegation. Learn the 3 most common obstacles to effective delegation. The 6 different levels of delegation. 2 ways to identify what tasks to even delegate. And a "foolproof" process that clarifies your thinking and guarantees a positive result in advance.
Districts interested in a bulk purchase of
The Remarkable Vision Formula: A Guided School Leader Retreat
,  email
[email protected]
or
book a time to speak to Danny here
.
Put "BULK ORDER" in the subject line of your email.
We are happy to offer a generous discount for orders of 25 or more books.
And we'd be thrilled to send Danny or someone from the Ruckus Maker team to facilitate a Remarkable Vision series of workshops for your system.