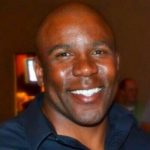 Randall Sampson, PhD, ensures equity and access for students through innovative learning models. Dr. Sampson has experience at the K-12 secondary education level as an administrator, teacher and a national transformation specialist.

Dr. Randall Sampson's focus areas include: 
1. Closing achievement gaps through the implementation and coaching of rigorous Common Core State Standards
2. Systemically increasing college and career-readiness
3. Boosting graduation rates
4. Implementing Innovation Learning Pathways 
5. Building Public-Private Partnerships through our community engagement process
These are skill sets Dr. Sampson honed through the Harvard University Achievement Gap Initiative and through teacher quality research with Harvard University's Dr. Ronald F. Ferguson. As a practitioner, Dr. Sampson's analysis of students' performance data provided a national value-add approach to building sustainable learning environments. 
Dr. Randall Sampson Show Highlights
Getting in the trenches with your people
The 6 Pillars of Growth
The motivation behind writing Welcome to the Grind
Process x Relationships = Exponential Results
Keep things simple
Culture trumps everything
Leadership lessons from Texas Football Head Coach Herman
Capture, curate, and share
The 6 Pillars of Growth
Job-embedded
Goal-oriented
Self-directed
Being collaborative
Data driven
Student-centered
Dr. Randall Sampson Resources
Did you enjoy today's show with Dr. Randall Sampson? If you did, then please share on social media and leave a comment below!
Show Sponsors
School Spirit Vending: Hassle-free, year-round fundraising for your school. With School Spirit Vending, we do all the work, you just cash the check.
SSV is also giving away the Top 10 School Fundraising Ideas for 2017. Download the guide here.