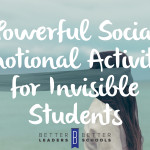 Data Driven Decision Making in Education
Social Emotional Activities to Turn Invisible Students into Visible Students
Today's guest post on social emotional activities comes from Dr. Erica Bauer. I'm very excited to share this content with you.  Erica will be featured more regularly on the blog and will share valuable content on social emotional learning activities on a regular basis.
She is a master of data – earning her PhD in Communication from the University of Illinois at Urbana-Champaign.  I think she is an expert in why data driven decision making is important as well as constructing survey topics for students.  Keep reading for some expert insights into school leadership …
Invisible Students
In education, one thing always is true. Each year we get older while they, the students, begin their journey at the same life stage. Staying connected requires intentionality; differentiated instruction requires data. Data driven decision making in education is so important because it provides a way to stay connected to your students, no matter the year.
I still remember the first time I realized that I needed to be intentional about staying connected with my students. I was working as a Teaching Assistant (TA) at the University of Illinois at Urbana-Champaign, while working on my doctoral degree. I was the TA for our Interpersonal Communication course and decided to use an example from a movie to illustrate my life-changing point, or so I thought. Standing in front of the class, I broke into a line from the movie Nell starring Jodi Foster. While moving my arms in an awkward motion to get into character, I said "Tay in the wind. Tay, tay in the wiiiiinnnnnnd."
Silence.
I was staring at a room full of silent college students who were staring back at me. Then, it hit me. I was teaching a class in 2006, referencing a movie from 1994. Eventually, we all laughed. The punchline was not my spot-on impersonation of Nell developing her own language. The punchline that resulted in an eruption of laughter was the fact that none of my students had ever seen the movie, and few had ever heard of Jodie Foster.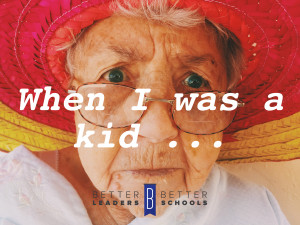 Many people believe in data driven decision making in education, but struggle how to do it.
Click To Tweet
Currently, I am the Director of Student Engagement at Walter Payton College Prep in Chicago, Illinois. I develop data-driven systems of intervention for students struggling academically and social emotionally. To do this well, I must engage with my students consistently. As a trained researcher, I employ many modes of data collection to accomplish this (e.g. student survey questions). It is my belief that the best leaders are fueled by passion and driven by data. It seems that many people believe in data driven decision making in education, but struggle to know how to do it.
In an effort to understand how to strengthen our school community, I partnered with a counselor to develop what we call the Invisibility Exercise. The goal of the exercise was to understand the barriers to students developing a sense of belonging with our school.
I wanted to know aspects of our community that students felt were invisible. One of our amazing counselors, Mr. Casey Bowles, who directs our advisory (homeroom) curriculum, ran with this idea and developed the following exercise that was completed during a 40 minute period. This social emotional activity provided a unique way for our students to engage and produced data that allowed us to prioritize our next steps.
I will describe this activity in its entirety so that you can replicate some or all of it in your community. I believe this activity also provides a concrete example of what data driven decision making in education can look like.
Social Emotional Activities for School Leaders
The Invisibility Exercise – 10 Steps to a Stronger Community
Before I jump into social emotional learning activity below, I outlined the steps in a fun infographic for you to save and download.

1. Define Invisibility
Introduce the activity.
State that in an effort to create a school community where everyone feels like they are welcome or belong, I want you to identify and explore aspects of our community that feel invisible or cause students to feel uncomfortable or isolated within our community.
Specifically, consider these questions:
What people groups within our community feel / seem invisible?

Examples: minorities, LGBTQ sexual identities, students with disabilities

What topics or issues are invisible?

Examples: mental illness, politics, race, class religion
2. Create Safety
Develop some ground rules about the classroom being a safe space, which is important for all social emotional activities.
Then, ask each student to take out a sheet a paper and write down a response to one or both of the questions states above. Students should not include identifying information on these papers.
3. Collect Student Responses
Once they have written their responses, instruct them to ball up the sheet of paper and throw it to the front of the classroom. This provides anonymity for each student, which helps in creating a safe space for students to be honest. It also provides a creative way to administer student survey questions outside of a computer-based format like Survey Monkey.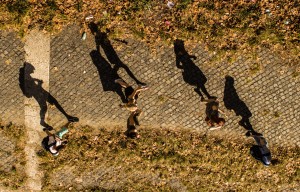 4. Select Student Leaders
Identify students to unwrap each sheet.
Read the responses aloud to facilitate group discussion or small group discussion.
5. Submit Themes
Provide a way for teachers to submit the top 3-5 themes that emerged in their class. I created a Google Form. This can be determined by tallying up the frequency of responses using the sheets of paper that were thrown to the front of the room.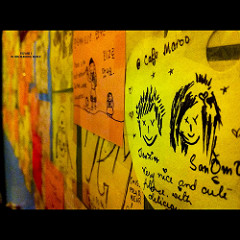 6. Categorize Themes
Once teachers have submitted their themes, determine larger categories in which to organize the submitted themes. The categories that emerged from our data are listed below in a diagram I created for simplicity. I divided the themes into three broader categories – social, emotional, and academic themes. Then, I determined whether the themes within the broader categories were contributing factors of invisibility (e.g., lack of school spirit), invisible topics (e.g., politics), or invisible people (e.g., students with mental illnesses). You do not need to use these categorizations if the themes do not fit within them.
Then, using an excel sheet, I listed the theme under these broader categories, removed repeating themes, and combined similar themes resulting in a synthesis of the findings. These results were communicated to our students, faculty, and parents.
The final four steps detail how we used the results in our community.
7. Reflect on Themes
We provided time for teachers to identify how they see these themes manifest within their classrooms, departments, and, broader school community.
8. Respond to Themes
We asked students to submit personal stories of how one or more of these themes create barriers to learning within the classroom to be read by other students to faculty during a professional development focused on pedagogy.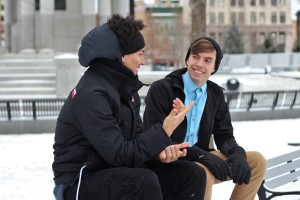 9. Empower Students to Act
We created a student group to use the themes as a guide to develop student-led activities to implement throughout the year. One of the first things this group implemented were school celebrations of cultural celebrations to address invisibility felt by minority students.
10. Determine Next Steps
We decided to revamp our advisory, homeroom, curriculum to include more social emotional activities designed to address some of the themes.
This 40 minute exercise provided a renewed focus within our classrooms, professional developments, and extracurricular activities. It provided an opportunity for students to exercise agency to tell us what they need from us. It provide our faculty the opportunity to say we hear you, we see you, and we are for you.
If you enjoyed the post, 10 Social Emotional Activities …, then I would be honored if you commented and shared on social media.
Please leave a comment below.  How are you developing social emotional learning activities at your school?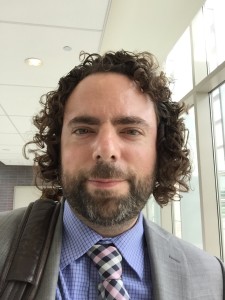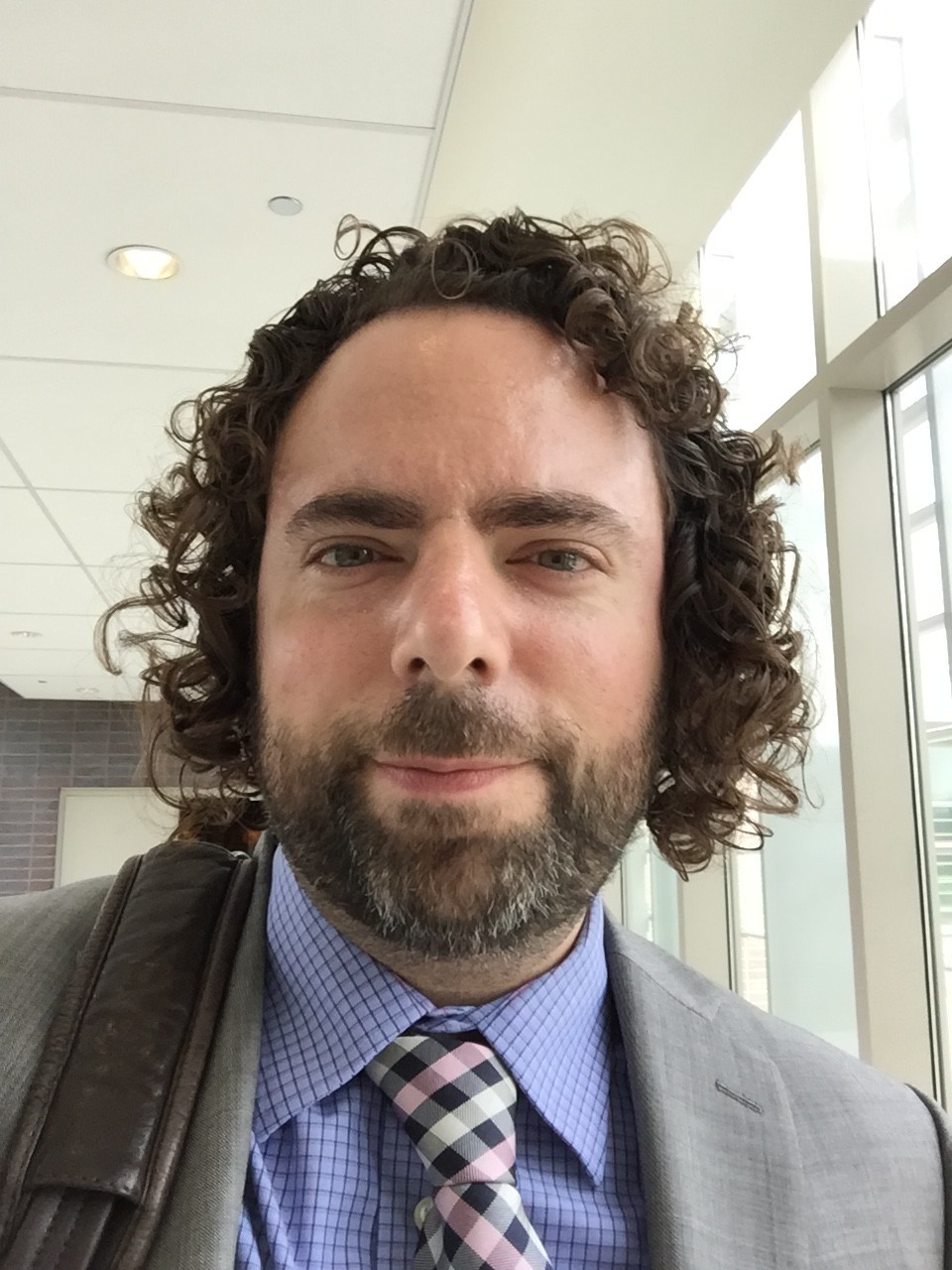 Skype: betterleadersbetterschools
Twitter / Facebook / Google+ / Linkedin / Snapchat
Email:daniel@betterleadersbetterschools.com
I help school leaders Create a Winning Culture, Focus on the Essential, and Lead with Courage and Integrity.
P.S. I wrote a short eBook highlighting what I learned from this year's WCA Global Leadership Summit.
"untitled" by Alex Harvey licensed via CC 2.0
"untitled" by inbal marilli licensed via CC 2.0
"115/365. You & I In This Beautiful World" by Anant Nath Sharma licensed via CC 2.0