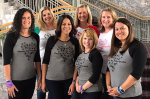 Today I have the pleasure of interviewing the powerhouse group: Moms as Principals. We talk how to be a leader at home and at school. We also tackle the idea of balance. This was a fun show to record. Rarely do I get to interview more than 2 guests …

Moms as Principals Bios:
Kelley Begley McCall is currently in her 18th year of in education and the principal and lead learner of Graber Elementary in Hutchinson, Kansas. She's also a
Code.org
Affiliate and spends several Saturdays a year training teachers how to incorporate computer science and coding in the classroom. She's passionate about trauma informed schools, project-based learning and giving students many opportunities to solve real world problems while connecting with the community.
Liz Garden is currently in her 9th year of educational leadership.  She has been the principal of Florence Roche Elementary School in Groton, MA for the past 5 years.  Before becoming the principal of the school, she served as the assistant principal for two years.  She was also an early childhood administrator for 3 years.  Liz taught for 13 years before moving into administration.  She loved working with students of all ages, having taught pre-school students all the way to high school biology.  Liz believes that every student can learn, and every student deserves teachers who believe in them, care about them and give them opportunities to be successful.  She is passionate about the power of words, and works to instill a love of reading and writing in her students and staff.  Liz loves that her job means she is constantly growing and learning alongside kids and adults!
Lynn Colon is the proud Principal of Mary Williams Elementary in Northern VA. A native from Puerto Rico, Lynn is passionate about equity, diverse learners, and making technology available to all students regardless of their language, learning ability or social background. She believes every school should strive to deliver the "Disney Experience" to all stakeholders. A lot of her work is built on collaboration, personalized learning for students and staff, and delivering magical moments to students.
Claire Giardino is currently in her 16th year in education. She is the Principal of Lincoln Elementary School in Columbus, Ohio. Prior to being a Principal she was a teacher for 11 years in Fairfax, VA. Claire is dedicated, energetic, positive and resourceful leader with proven ability to create and monitor policies and practices that promote a safe and joyous learning environment. She ensures a school culture that nurtures growth for staff, students and the community at large.
Lindsy Stumpenhorst is a 3-5 elementary principal in Sterling, Illinois, a rural community two hours west of Chicago. She has taught grades ranging from 3rd to 8th, also spending time as an RTI specialist and an associate principal before moving into a lead learner role. She expects her students and staff to work hard, but she doesn't expect them to do it alone.She believes that education can be exciting and fun, as well as impactful and metacognitive.  Most days you will find her providing staff with learning and growing experiences in-between games of soccer or tetherball with students at recess.
Melissa Kartsimas is in her 7th year as the principal of Kennedy Elementary School in Schiller Park, IL, which serves 800 wonderful students, PreK-3rd grade. Melissa previously taught 3rd grade, as well as serving as a Curriculum Facilitator. Melissa is a former Illinois Computing Educator of the Year is passionate about bringing together best practices for students & 1:1 technology to further enhance student learning. She is a wife and mom to two children.
Tracey Allen is the Director of Professional Learning for Butte County Office of Education in Northern California. Tracey has had the privilege of being an elementary school teacher, instructional coach, educational consultant, and principal of an elementary school. Tracey also takes pride in being a connected educator and growing her PLN with other enthusiastic and innovative educators. You can follow Tracey on Twitter @PrincipalTallen. In addition, you can read her latest blog on
https://momsasprincipals.wordpress.com/
or connect with her via Voxer: traceyallen409
Moms as Principals Show Highlights
The origin story of #momsasprincipals
How to be brave an click publish
Taking risks with staff is easy, with the public it is tougher …
How Claire was pushed to explore social media
Why it's important to be vulnerable with failures
We're not half in … we are all in at work and at home
Tips for balance to serve well at school and at home
Fantastic ways to build relationships with your staff
Moms as Principals Resources
Connect with everyone on Twitter …
Did you enjoy today's show with Moms as Principals? If you did, then please share on social media and leave a comment below!
Show Sponsors
School Spirit Vending: Hassle-free, year-round fundraising for your school. With School Spirit Vending, we do all the work, you just cash the check.
SSV is also giving away the Top 10 School Fundraising Ideas for 2017. Download the guide here.