We help school leaders fight isolation and frustration via a leadership community in order to gain clarity and find solutions to their greatest challenges


Welcome to the Mastermind,
a world-class community of school leaders from around the
, waiting, and ready to take your leadership to the next level
Dear School Leader,
If you run a school district, run a school or have aspirations of running a school someday; then you know that leadership is not only challenging, but it can also be isolating and lonely.
And this webpage has the solution.
Here is the 411:​
My name is Daniel Bauer and I am the founder of Better Leaders Better Schools. In addition to serving as a teacher, I have:​
been an Instructional Coach at a local school
served over 20 schools as an AVID Coach at the District Level
flourished in the role of AP
and learned what it takes to win at the Principal level
​
In 2015, I was coordinating local "leadership dinners" where I invited local principals to my house to discuss leadership deeply. I craved authenticity and vulnerability. I wanted to learn from others' mistakes and be challenged in my leadership journey. I wanted to be pushed and developed while becoming a Better Leader.
There was only one problem.
No one wanted to do this consistently.
Was I crazy for wanting this type of community? Was I asking for too much?
The answer ... No! I just needed to think BIGGER.
My focus was just too small. I was looking locally, but what I needed to do was look on a GLOBAL scale for others with a similar hunger for this kind of community.
You see friend, I have found leadership to be both isolating and lonely.
There a variety of reasons for this.
If you're the principal ...
Who do you really have that you can turn to and trust with your questions and doubts?
The same is true for both APs and Instructional Coaches.
And imagine if you're a Superintendent for crying out loud!
I have found leadership to be both isolating and lonely.
I started to accept that my "leadership dinners" just weren't going to happen (cue violin and feeling sorry for myself) ...
Around the same time, I was listening to a lot of podcasts and getting fired up because I realized there just wasn't that much content for school leaders.
So I decided to create the Better Leaders Better Schools podcast.
About 4 months into creating the podcast I joined a mastermind led by good friend, Aaron Walker.
The experience of a mastermind changed my life.
Why did it change my life?
The truth is this:
"You are the average of the 5 people you spend the most time with" - Jim Rohn.
I needed to upgrade my leadership friends and get around people that wanted to grow as deeply as I desired.
I wasn't growing because I wasn't surrounding myself with people that were growing. I was surrounding myself with people that were checking off to-do lists.
They were busy "running a building" and getting stuff done.
Their to do lists were growing, but they were not.
In January of 2016, 15 school leaders read The Miracle Morning in my masterminds. That book is filled with a ton of great ideas, but one quote really jumped off the page …
"... your [leadership] will develop after--but only after--you develop yourself into the person you need to be to improve it."
​- Hal Elrod
That's why I've created:
The Better Mastermind:
How to create winning cultures, focus on the essential, and lead with courage and integrity.
In this hybrid group coaching program and leadership development community for school leaders, you'll discover:
The best way to create winning school cultures that stand the test of time.
How to focus on the essential and say "No" to meaningless tasks (and help your people do the same).
What to do when you're scared of doing the right thing and how to find the courage.
And so much more …
Some problems we've discussed and solved in the mastermind:
I just found out that I'll be interim principal, starting next week …
How do I hold crucial conversations with toxic teachers and/or narcissistic APs …
Help! A staff member has to be investigated for sexual harassment
My school just lost all of its funding and will have to close this year if we don't figure it out this month (it didn't close and we figured it out)
I'm interviewing for principal jobs, how do I prepare?
I lost my temper and cursed out a teacher, now what?
How do I establish a system of Restorative Practices when my teachers want blood?!?
The little-known fact about school leadership is …
That you don't have to do it alone, nor do you have to reinvent the wheel. There is a Community of School Leaders that have seen every issue under the sun ... and they want to help you.
People will pay top dollar for leadership coaching. Just the other week, I was approached by a school district who wants me to key-note speak for 1500 Principals and APs. Additionally, I also offer premier 1-on-1 coaching, but in my "Better Mastermind," you get a chance to work with me and a variety of other hungry leaders on a mission to develop their leadership skills in an authentic and challenging community.
Here's what you get:
Leadership Book Study – Each month we read an inspirational book that will enhance your leadership expertise.  Leaders are readers … we'll discuss these books weekly and apply the leadership principles learned. Think of this as the graduate course on leadership you always wanted to take. $500 value.
Weekly Virtual Meeting on Zoom – Zoom is a beefed up version of Skype. You can use it on your computer, phone, or tablet. The graphics are displayed like the Brady bunch. Zoom is feature rich, but the favorite of members is the chat area. I save the chats and email out to members since the chats provide links to many resources. $247 value.
Grow Your Professional Network – Congrats! You just upgraded your leadership circle. Imagine joining a group of like-minded, driven, and passionate educators. I have seen close relationships develop because of the commitment of the individuals to the group and each other. This is hard to put a value on … what is an upgraded professional network worth? How many conferences would you have to go to after years to build these type of relationships? $1000 value.
Quarterly 1-on-1 Coaching Calls – Each quarter members have the opportunity to schedule a 1-on-1 coaching call with Yours Truly. We'll discuss whatever is most important to you and breakthrough any upper limit challenges you face. $1000 value.
Opportunity to Feature Content on Better Leaders Better Schools Blog and Podcast – Members are welcome to join me on the show and/or create content on the blog. Who knows who will read it, but creating digital content is the new business card and my platform is a great way to promote your work and ideas. This is hard to put a value on … how would you value doors that will open as a result of being featured on this platform? Estimated $800 value.
Discounts on Future Products, Books, Workshops, and Services – I currently am working on a list of 100 ideas that could be turned into products, books, workshops, and services that will benefit my tribe. Mastermind Members will be offered a discount on anything created. $600 value.
A Monthly "Jam Session" Q & A – All Mastermind Members are invited to one large mastermind meet up to rapid-fire questions and get quick answers from the collective brain power of the group. This is a new feature I am excited to try out. $600 value.
Access to a Private FB and/or Voxer – Your mastermind group will have access to a private FB or Voter group. There you can share resources and continue the conversation from the week's Mastermind Meeting. $300 value.
You'll also receive:
Email/Text Access to Yours Truly – Do you have a quick question and want me to chime in? You know where to find me and I'd love to help. 
Note – this is not "coaching via email." All questions should be kept to 3 sentences or less so I can answer in a timely manner. Deeper challenges will saved for Mastermind Meetings and/or Jam Sessions. $600 value.
A Complete DISC Profile – This personal assessment will lead to better self awareness; motivational characteristics of your behavior style; communication DOs and DON'Ts; discover your strengths, and an action plan to improver interpersonal skills. $100 value. 
One exclusive leadership workshop – Right now I'm giving away my popular Productivity Course.
Note – workshops are subject to change based on the needs of the community. $350 value
Live and Lead at Your Best – If the idea of balance has been alluding you as a leader, this session will identify the reasons for your struggle, the cost of not effectively dealing with your balance problem, and how to both live and lead at your best. I've helped over 100 leaders implement this strategy. Yours free. $300 value.
The above brings us to $6397 in total value.
But today I'm doing something crazy that MANY of my  entrepreneurial friends advised me not to do …
I'm offering the "Better Mastermind" experience for $250/month membership available to all regardless of location. This won't last. 
This is an absolute steal when you consider the amazing network you'll instantly plug into as well as the environment in which you'll not only solve your greatest challenges, but get a step closer to the leader you always dreamed you could be.
This the highest quality PD available in the world and the most personalized experience you can get – guaranteed.
But don't take it from me ...
Below are some video, audio, and written testimonials ...
Here are four episodes of actual Mastermind meetings …
Click to play some audio from Mastermind members talking about their experience in our private Voxer group.
I think something I needed back in early June when I first talked to Danny Sunshine Bauer about the mastermind was something to re-ignite excitement. My year had ended on a low point and I went from someone who'd always had so much excitement for everything I did to someone who was just putting out fires...a little engulfed in smoke.
So - being vulnerable out here - I came in wanting that fire and excitement back. I came in at a pretty negative place.
Danny chose books that I probably wouldn't have chosen on my own. I read a lot of pedagogy, but through this found I wasn't sharpening my leadership skills. Reading these books, talking about them with you (and so many other people in my life) I realized that was really more of what I needed right now than the pedagogy side (which of course...hasn't stopped completely...I like to read).
I can honestly say that I am so incredibly excited for this coming school year. I have had some negative comments hit me as we're setting up to start the school year with "so worried about this year..." and "district is doing crazy things..." and so on/so forth. Regardless, it hasn't taken away from how genuinely excited I feel for the coming year.
Don't get me wrong - I think I know this year will have it's own tough points. But, ultimately I think being a part of this group and having an opportunity to hear other leader's perspectives, struggles, questions, and also in receiving feedback from those leaders keeps me focused on what I can control.
I can't control who my boss(es) is/are, and I can't control what they do. However, there are a lot of things I can do...and that's where my focus has been returned to. Our mastermind group gives accountability, support, ideas, resources, and more. Every member brings a unique perspective. I am inspired by everyone in our group. They each push me to be better.
Like Daniel has coined... Better Leaders >> Better Schools... I know for me this next one is true: Better Mastermind >> Better Leader. Thank you Daniel for the leadership focus, push, and accountability I needed.
--
Kyle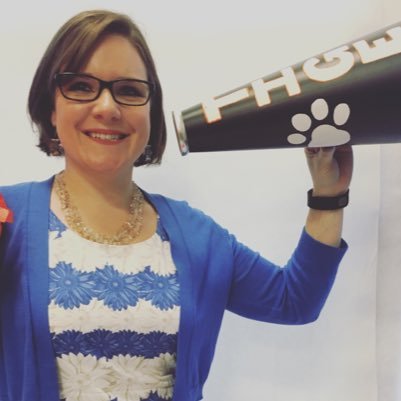 Kyle Borel
Principal
Do you have any more questions?​ Email me
​