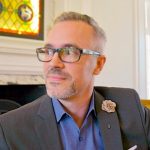 Dr. Mike St. Pierre is the Executive Director of the Catholic Campus Ministry Association, a national association of professional campus ministers, serving on over 350 campuses. Prior to his current role, Mike was a school president for seven years in New Jersey. Mike's doctoral dissertation explored the impact of technology on secondary school students and their ability to collaborate. He and his wife, Cary have four children.
Mike St. Pierre was an incredible guest. Listen below for the full episode and learn the "float the balloon" strategy and other leadership tactics!

Mike St. Pierre Show Highlights
How technology impacts students ability to collaborate
The power of focus
Why you need to theme days and how Mike does it
Leaders should be fair, firm, and friendly
Tactics to demonstrate that you care
Is this right for my community and can we get behind it?
Invest in people early
Float the balloon: Check yourself ninja-tactics …
How Mike uses silence in the morning
Sunday night staff meetings (with the family)
Ways to show that you are getting better too
Just do the work
Mike St. Pierre Resources
Did you enjoy today's show with Mike St. Pierre? If you did, then please share on social media and leave a comment below.
​Listen to More Podcasts Here!
Show Sponsors
School Spirit Vending: Hassle-free, year-round fundraising for your school. With School Spirit Vending, we do all the work, you just cash the check.
SSV is also giving away the Top 10 School Fundraising Ideas for 2017. Download the guide here.
Our mission is to support people in education and nonprofit organizations to improve processes and enhance the performance of their organizations.

Our

 venture is a social enterprise and their vision is to catalyze sustainable change in our society one organization at a time

Our

 home city is Chicago but their work can be done anywhere in the nation and they are actively looking for clients elsewhere

Our

 current portfolio includes individual schools, nonprofit organizations, small and large districts and urban school systems

Our

 team represents and shares a stake with the populations we serve

We

 are strategic thought partners to leaders of public sector organizations

We

 ideates, builds and maintains easy-to-understand data tools using the latest analytics technology