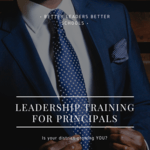 Leadership training for principals … if you are a long time listener of the podcast, you this very topic is why I started the #1 downloaded podcast for school leaders.
In 2015, I was an AP at a high achieving school on the south side of Chicago. The truth ... I needed to get better as a leader and the district wasn't doing anything about it. So I set out to have conversations locally about leadership, so I could learn from the experience of others. Those conversations were hard to come by so I started to talk to awesome leaders via my podcast.
Looking for something deeper I joined the Iron Sharpens Iron Mastermind led by Aaron Walker in early 2016. This experience literally changed my life. Personally and professionally I transformed so much, I looked at the education industry and thought, "Why don't we have masterminds in education?" So I started one for school leaders.
The Bill Hybels quote, Everyone wins when a leader gets better" is a guiding principle at Better Leaders Better Schools.
And throughout my career in education I can see a common thread... a deep interest in leadership training for principals.
That is exactly why I created the podcast and the mastermind, but I wondered what districts currently do to invest in school principal education and training.
In December 2017 I asked listeners of the podcast, subscribers to my email list, and members of principal communities on FB and Twitter, to take a survey I designed aimed at investigating the quality of leadership training for school principals.
This blog post is a summary of the results.
I think regular meetings of principals in our system to discuss issues we're facing would be helpful. Also, personally, I could use time management advice. How do principals spend enough time in the classroom when there are so many other distractions that need attention?
213 school leaders completed the survey. 76% are principals and APs. The remaining leaders are Superintendents, Other Central Office Leaders, and Instructional Coaches.
This is their story regarding the quality of leadership training found in their district.
Leadership Training for School Principals Survey Results
The original questions asked on the survey will be shared throughout this blog post. Below are some themes that I see based on the results:
How did I determine these results? Below is a quick infographic with some of the data illustrated.
I'll walk you through the exact questions and results next.
In bold you'll find the questions I asked in addition to a summary of the data.
I receive high quality leadership development from my district.
25% of school leaders agree that they receive "high quality" leadership development
I receive regular leadership development from my district
33% of respondents receive regular leadership development.
I receive personalized leadership development from my district
17% of respondents receive personalized leadership development from their districts.
Diverse thinking is lacking in my district. We suffer from group think.
36% of respondents agree that group thinking is limiting diverse perspectives from emerging in their district.
[I would benefit from having] someone else point out my goals and places to grow. I need to stretch and still build my leadership outside of my school community!
I feel isolated as a leader.
37% of respondents DO NOT feel isolated as a school leader
I have a community (5 or more people) I trust and can help me through my greatest leadership challenges.
50% of respondents have a community to lean into when they need advice on how to solve their biggest challenges.
I am satisfied with the quality of my professional network.
40% of respondents are satisfied with the quality of their professional network, yet 90% shared they would like to grow their professional network.
I regularly engage with other school leaders on social media
47% of school leader regularly engage with their peers on social media.
I regularly participate in deep conversations (face-to-face or virtual) about leadership with peers in a similar position.
41% of respondents are regularly engaging in deep conversations with their peers concerning school leadership.
How do school leaders currently invest in their professional development?
The top 5 ways school leaders invest in their own development:
Books
Podcasts
Conferences
Online Courses
Graduate Courses
I am able to avoid distractions and focus on the most important thing any given day.
25% are able to avoid distractions and focus on the most important work in their position.
I feel isolated as the only elementary principal in my district so I am working to branch out and meet with others in my area and state. As a district we need more focus as a admin team and we need professional development on how to communicate and build PLC and PLNs.
I have access to an executive leadership coach
20% of respondents have access to an executive coach, yet 60% of survey respondents would like access to this type of leadership development.
I am looking for something to take my leadership skills to the next level.
89% of respondents are looking for an opportunity to grow as a leader.
Next Steps: Take Ownership of Your Development
Do you relate to any of the data shared from these results?
If you do relate you might be feeling frustrated, disappointed, or maybe even angry. You might be shocked.
That's okay, the results tell me you're not experiencing this alone.
So what should you do next? Where is the help?
I end each podcast with the following quote ...
Life is 10% of what happens to you and 90% how you react to it. Go out there and be a Better Leader today.
I find the quote powerful because it's about agency and ownership.
There is good news ... you have a choice on how to proceed.
In my mind there are a few things you can do:
Plug in consistently to an active community on Twitter, FB, and Voxer. There are tons of educators out there looking to connect and help. A few twitter chat I enjoy are #leadupchat, #PIAchat, #kidsdeserveit, but there are so many more out there I like and the people on Twitter are super helpful. My favorite two FB groups are Principal Principles and Principal Life.
Start your own movement. Create a hashtag or community on FB or Voxer to help each other out. Go deep with the discussion and call people to something higher. Be there to support one another.
Join my mastermind. Current members say it's the best professional development they've ever received and it's highly personalized. Each week we attack the #1 challenge of the member on the Hot Seat. You can read more about the Mastermind I lead here or apply for it below
Jethro Jones also has a Mastermind. So if I'm not your guy or if the times we meet don't work, maybe you reserve a spot in one of his groups.
At the end of the day, you have a choice to make. How do you plan on connecting? How will you fight the isolation you experience and the lack of development that is offered? Plug into community somewhere!