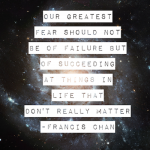 Review your year like an Essentialist
A leadership case study
The point of this post is to offer leadership training activities if you will.  I'm pulling back the curtain on my 2015 and I'm going to show you my best and worst of my leadership skills list.
By now you know I'm a big of Essentialism right?  I wrote a massive leadership book report on this text for you in case you want a taste of the book before purchasing or if you just want the Better Notes version.
Anyway … I'm a huge fan of this text and found an old post from the author, Greg McKeown on how to do a year-end-review.
So I followed his advice and published my reflection in this post for you to see.  I hope that you find it valuable and I hope my transparency encourages you to do a similar exercise.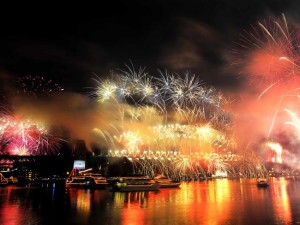 2015: The Good
Developed great relationships with many teachers
Started writing thank you cards (inconsistently) to

all

staff
Kept track of thank you cards in a spreadsheet
Connected with amazing educators on social media growing to over 500+ connections on LinkedIn and nearly 2000 on Twitter
Grew my PLN (Professional Learning Network) by creating the podcast, joining the Edu Podcast Network, and joining the Lead Up tribe (#leadupchat is every Sat 8:30 am CST)
Significantly improved our school's Culture & Climate by working closely with the school deans (I used data driven decision making and provided weekly feedback to the guys … maybe this is a later blog post to feature).
Greatly impacted teacher use of data analysis while working as a professional learning community (another blog post idea – this review is fun!)
Successfully created a schedule for 841 students so the year started without a problem!
Purchased Global Leadership Summit training materials to build leadership capacity of school leaders
Started first ever New-to-Brooks teacher group
I was interviewed by Justin Baeder and Gretchen Schultek Bridgers
Refined RtI at Brooks and created the "dashboard," a one-stop-shop for all data points on our students because Chicago Public Schools does not offer this to school leaders
Started a Restorative Justice (or Practice) system at our school
Created the Dr. Howard Award and Brooks Points systems to show honor to students and staff for positive contributions to the community
Hosted a principal from South Africa and spent time offering him job-embedded professional development
Planned and helped facilitate visits from POTUS and the Dutch King and Queen
2015: The Bad and Ugly
Depending on the individual I did not listen very well.
I made some poor decisions outside of school
I can be very results focused and disinterested in process and details
I disengage when I don't agree with how time is used during meetings (I want action and results)
I don't participate in talk that does not lead to action
I discount some teachers that demonstrate ineffectiveness in their classrooms
I too often think my way is the best way
I can be very tough on people that I discern are not giving their all
I had a bad attitude working on schedules and going to recruitment fairs because I'm not interested in them and they do not utilize my gifts.  I do both well in the moment, but I do waste time and energy at home hating that I have to do them
I don't like participating in parent meetings because they are sparsely attended and all talk with no action
I am reluctant to commit to different initiatives based on a trend of others at our school not seeing them through
I don't always offer my feedback because even though it's asked for it rarely impacts decision making
I can spend too much time working in the office and not engage in halls and classrooms
What is going on here?
The first thing that jumps out to me is that my successes in 2015 are all focused on projects that I dreamt up and executed.
No surprise there – when I recently took the DISC profile assessment I am considered a High D (feel free to read my report here).  Basically that means that I am big picture and I like results.
Additionally, Strength Finders 2.0 identified my top strength as an Activator which means when I am passionate about an idea or project I implement quickly with high energy.
Sally Hogshead's Fascinate Report taught me that I am a Victor (I love that name).  This report was extremely interesting and I'll share what I learned about my key leadership skills in the pics below …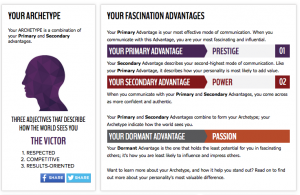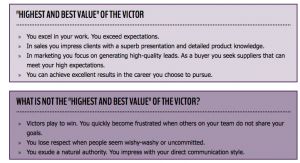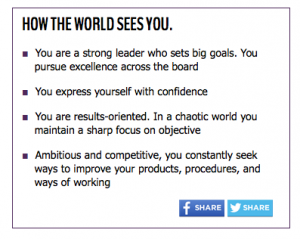 From my bad and ugly leadership skills list, I noticed that I focused on my people skills and character flaws.
To be honest, you don't see a list of things I didn't accomplish because that doesn't happen.  I execute.  Always. And that is one of my highest values to a team.
I love the How to Fascinate Assessment and DISC profile because the pictures above and my report reveal that I become disengaged when I see a lack of execution, follow-through, or talk without action.
Since I now know this about myself it has been my goal to communicate my strengths and weaknesses with others I work with so they have a better understanding of me.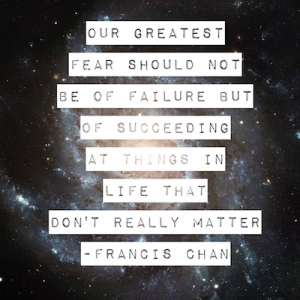 What's next? More leadership training activities
Now that I have a good understanding of myself and my 2015, Greg McKeown encourages us to do four more things that you can consider leadership training activities:
Create a list – no evaluation – just brain dump an answer to "What would I do in my career if I could do anything?"  I'm not going to do that here so I don't influence your list.  Also, spend plenty of time here.
When you think you're done – you're not.
Walk away.  Take a break.  Then revisit the list and add to it.
Identify your top 6 objectives for the year, then cross off the bottom five.
Essentialists know that they must focus on one thing to put all their energy and creativity there.  It will feel weird at first.
Our society is stressed out and stretched thin.  That also makes us ineffective.  Put everything you have behind one main objective.
Create an action plan.  I talk about a great way to action plan in Episode 20 of my podcast.  Listen for when I discuss your 6 X 6 strategy.  This will help you create and execute a great action plan.
Finally, identify what you will say no to before the opportunities come to you.
Think of it like this.  In my budget I gett $75 a month to do whatever I want to do with it.  I call this fun money.  When it is gone I have no more money to spend on whatever I want.
Essentialists do the same thing with opportunities.
By establishing the borders and ground rules before being faced with an opportunity you have done the heavy lifting … you already know the answer.
If you're faced with an opportunity that you didn't think of, then ask yourself this question … Does this opportunity move me closer to accomplishing my main goal? 
If the answer is "No," then run as fast as you can from the opportunity.  It is a distraction!  It may be a good distraction, but it still is just that – non-essential!
If you enjoyed the post Leadership training activities – 2015 year in review, then I would be honored if you commented and shared on social media.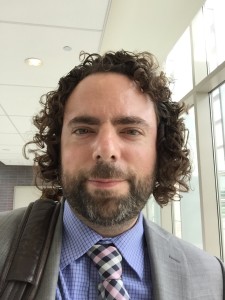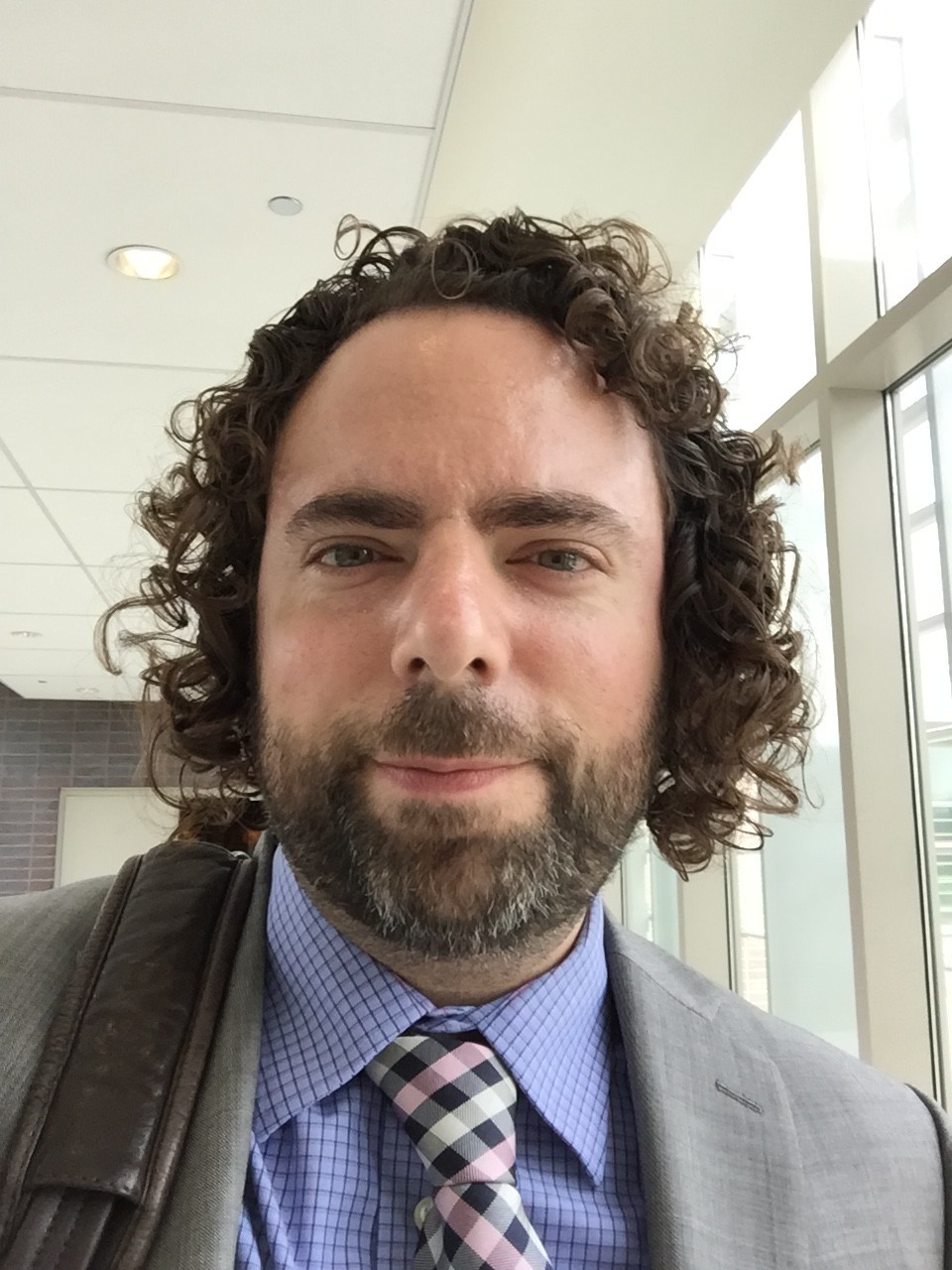 Skype: betterleadersbetterschools
Twitter / Facebook / Google+ / Linkedin / Snapchat
Email:daniel@betterleadersbetterschools.com
I help school leaders Create a Winning Culture, Focus on the Essential, and Lead with Courage and Integrity.
P.S. I wrote a short eBook highlighting what I learned from this year's WCA Global Leadership Summit.
P.P.S. Some, not all, of the links in this blog will generate affiliate income for me.  I want to be transparent and if you find something of value and buy – that's a great way to say thanks to me!