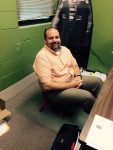 John Fortney is an assistant principal at Owensville High School in Owensville, MO. He is in his fourth year in this role and 15th year in education. Owensville is a 600 student school located about 90 minutes southwest of St. Louis. John is a career switcher, his first degree in in archaeology, followed up with a Master's in sports psychology and a Specialist in Educational Leadership. John's wife is an administrator at a special education cooperative, together they have two children and two grand children. In his free time he uses his smoker grill, reads, travels with his wife, and spend as much time as he can with family.

John Fortney Show Highlights
How a masters in school leadership was like going to revival
The best part of school is the relationships
The importance of being around other inspiring leaders
Missouri Leadership Academy
The Kolbe strength-based assessment & how you could use it with your staff
Get to know your kids and engage with intentionality
How rural schools can approach innovation 
John's mastermind experience
Did you enjoy today's show with John Fortney? If you did, then please share on social media and leave a comment below!
Show Sponsors
School Spirit Vending: Hassle-free, year-round fundraising for your school. With School Spirit Vending, we do all the work, you just cash the check.
SSV is also giving away the Top 10 School Fundraising Ideas for 2017. Download the guide here.