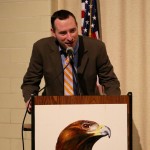 Better Leaders Better Schools guest Jason Bodnar is the new principal at Lincoln Middle / High School in Cambridge City, Indiana.  This is his 12th year in education.  He taught high school science for nine years and was a middle school assistant principal before accepting his new position.
Jason Bodnar
loves connecting with other educators, learning, and helping others learn through his podcast which can be found at 
principallyspeaking.com
.  He can also be found on Twitter @PrincipalBodnar.
Become a Patron
BECOME A PATRON OF THE SHOW FOR AS LITTLE AS $1/MONTH
In this episode you will learn:
What can make you look different
The power of putting yourself "out there"
The paper resume is dead and what to do about it
What it's like to be a 1st year principal
His New Personalized Learning Academy
Why we should build classes with glass walls
How to ignite learning with disengaged students
Resources
Subscribe, Rate, and Review
text PHRASES to 33444 or click the link above.
Do you need accountability?
Text BETTERMASTERMIND to 33444
Daniel wants to work with you and help you accelerate your leadership development and increase your impact.
Show Sponsors
Audbile: Try over 180,000 titles on any smart device or computer.  I've downloaded and enjoyed books by Zig Ziglar, Tony Robbins, and Gary Vaynerchuk so far.
Did you enjoy this episode with 
Jason Bodnar
?  If you enjoyed the show, then please leave a
5 star rating and review
and share on social media.