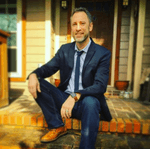 Chris Mefford has done it all, from starting his own company to working for churches, and most recently as a former VP at the Dave Ramsey organization (planning live events and more) and EVP for Dr. Henry Cloud. Currently, Chris is the acting COO for Standard Behavior Digital. In his many roles, Chris has had the opportunity to change people's lives by providing clear, actionable strategies to help people make smart business decisions and turn a fledgling department into one of the best in the company.

Chris Mefford has coached leaders from businesses and nonprofit organizations nationwide. He offered his
expertise and insight to assist senior executives and small business entrepreneurs to build better cultures, turn around underperformance, hire the right employees, know when to let people go, implement efficient processes, manage finances, and implement the organization's mission all while making money and changing lives. Chris even played a part in helping the Ramsey Organization win the"Best Place to Work in Nashville" award for 8 straight years. Chris is a former high school teacher and holds an MBA from the prestigious Odette School of Business at the University of Windsor.
In short, he knows a lot about business, communication and leadership. Chris is passionate about sharing his experiences and using his teaching skills to help others create amazing cultures and places to work.
Chris Mefford Show Highlights:
Creating great teams and cultures
Communication happens outside of your office
Great companies OVER communicate
What happens when you DON'T communicate
How to run a great weekly "TMZ Meeting"
Fighting "Us vs Them" mentatlity
4 things to do for better accountability
As a leader you are a part of the PROBLEM and the SOLUTION
When you pour into your teachers, the teachers pour into your students
How to pull out the organic intrinsic motivation that schools are privileged to have
Why you need the DISC for communication …
Chris Mefford Resources:
20 best interview questions to ask (find on website)
 Chris Mefford Contact Info
Did you enjoy today's show with Chris Mefford? If you did, then please share on social media and leave a comment below!
Show Sponsors
SCHOOL SPIRIT VENDING: Hassle-free, year-round fundraising for your school. With School Spirit Vending, we do all the work, you just cash the check.
SSV is also giving away the Top 10 School Fundraising Ideas for 2018. Download the guide here.
Copyright © 2018 Better Leaders Better Schools