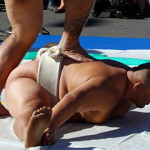 What is Sumo Me?
Sumo Me is a WordPress plugin designed to infuse your website with happiness.  Sumo Me accomplishes this by offering a set of free tools that optimize blog traffic through social sharing, building an email list, and much more.
What I like most about Sumo Me is that it has multiple FREE tools.
My favorite Sumo Me Tools
list builder – a cool tool for building an email list (did you notice the pop-up for The Blueprint …)
share – a cool tool for making social sharing SUPER easy (hey … look at those incredible circular sharing options on the left of my webpage)
smart bar- a cool tool for building an email list (look up … notice the "Get the Blueprint …" at the top of the screen … great tool).
I also just started using heat maps and content analysis.  These free tools tell you more about how users actually engage with the content on your website.  I haven't used these long enough to comment on their usefulness.
I absolutely LOVE all the tools I mentioned above for three reasons:
They're free
They're beautifully designed
They work – I have a ton of shares and have grown my email list thanks to Sumo Me.
I'm choosing at this point not to pay for the premium options, but one day I most definitely would like to invest in those paid for options.  When you select the premium tools you get waaaayyyyyyy more options in terms of design, utility, and data analysis.
For example, if I paid for the premium list builder, I'd get access to countless more pop-up templates as well as the ability to collect more than an email address (e.g. First and Last Names).  I also would love to split test my list builder boxes to see which style of box works the best.
Overall, Sumo Me is easily my favorite WP plugin and I'm thrilled that the free options are so useful and I look forward to using the premium tools.
Thank you Noah Kagan and team for creating Sumo Me!!!
How Do I Know This Is an Honest Review?
It says so in the title.
My Momma would kill me if I lied.
Who Is This Guy?
Basically, Daniel E. Bauer is an amazing guy and founder of Better Leaders Better Schools – an online support system for school leaders going places.  You can read more on his About Page, but here are some fun facts not listed on the About Page:
Skype: betterleadersbetterschools
Twitter / Facebook / Google+ / Linkedin
Email:daniel@betterleadersbetterschools.com
I teach leadership skills through a data-driven and emotionally healthy approach that gets others to perform their best.
Did you enjoy this post?
If you enjoyed this post on Sumo Me, then I would be honored if you commented and shared on social media.
P.S. I will be writing a short eBook highlighting what I learn from this year's WCA Global Leadership Summit. Pre-order it for $7 below.  It will be $17 after the Summit this August.