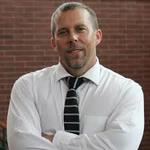 Don Wettrick is the Innovation Coordinator at Noblesville High School, and is the author of "Pure Genius: Building a Culture of Innovation and Taking 20% Time to the Next Level." Wettrick has worked as a middle school and high school teacher; educational and innovation consultant; CEO, and podcast host. He is also the founder of StartEdUp, an organization dedicated to help transform the school culture toward innovation and enable student-led entrepreneurship.

Don Wettrick has lectured across the US, Europe, South America and Africa about collaboration, social media use, and work environments that enable innovation. Through his travel, he has worked with hundreds of entrepreneurs from Silicon Valley to Ghana, and seeks to bring that entrepreneurial mindset into our classrooms. His podcast, StartEdUp, has featured some of the most successful entrepreneurs, authors, and thought leaders in the world- focusing on educational change. Most importantly Don works with educators, students, and entrepreneurs to bring innovation and collaborative skills into education.
Don Wettrick first appeared on the podcast back in Episode 017.
Don Wettrick Mann Show Highlights
The origin story of StartEdUp

Learning by doing

Where is the economy going?

There are a lot of kids that shouldn't go to college

It's okay to admit when you don't know

Now is the time for you and your students

The themes Don has learned from extremely successful entrepreneurs

What can we start doing to change?
Don Wettrick Resources:
Don Wettrick Contact Info
Podcast Upgrade
Show Some Love
Did you enjoy today's show with Don Wettrick? If you did, then please share on social media and leave a comment below!
Show Sponsors
•Hassle-free, year-round fundraising for your school. With School Spirit Vending, we do all the work, you just cash the check
•Increase school spirit with custom stickers for your school and raise funds at the same time -no upfront costs, no volunteers, no selling
•Sick of the same old ways of raising money for your school? Let School Spirit Vending's hassle-free, year-round fundraising program supplement the other fundraisers you're already doing.
•SSV is also giving away the Top 10 School Fundraising Ideas for 2018. Download the guide here.