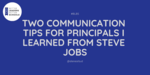 I never thought I would learn communication tips for principals from Steve Jobs, but I did.
Driving down US-441, I left a grueling CrossFit workout and was on my way back home. I love turning my car into "Commute University." I frequently listen to audiobooks and podcasts to make the most of time spent in a car. You must be doing the same because my flagship podcast is the most downloaded show for school leaders in iTunes with my daily podcast gaining ground each day!
So there I was listening to Walter Isaacson's book, Steve Jobs, and my mind was exploding with ideas to share with you here on communication.
Walter Isaacson was describing the time that Jobs came back to work as CEO for Apple. The year was 1997. I was a sophomore in college
If you apply the same two things Jobs did after taking over Apple, you will instantly be a better leader in your school.
But before I share those two communication tips for principals, I want to talk about vision, dreams, relationships, and a cool project I participated in the summer of 2018.
PART 1: THE STORY OF #EDWRITENOW
This past summer I engaged in one of the most rewarding professional experiences I have had in my career. My friend, Jeff Zoul invited my to contribute to the second edition of Education Write Now (#EdWriteNow on Twitter). On this project, I collaborated with nine other educators and in a shot 48 hours we identified a theme, chose our topics, and wrote a chapter for our collective book.
The theme we decided on was "relationships." Next, we chose our topics. My palms were sweating because I pitched my topic last. I came to this writers' retreat with a topic in my mind and since I was pitching last, I worried that my topic would be a duplicate. Luckily, everyone shared an original idea and I was able to write on "Connecting with Dreams to Create a World-Class Culture."
One of the best parts of working on this project is that we don't make any money. All the proceeds go to the Will to Live Foundation whose mission is "Dedicated to preventing teen suicide by improving the lives and the 'Will To Live' of teenagers everywhere through education about mental health and encouraging them to recognize the love and hope that exists in each other."
PART 2: THE IMPORTANCE OF VISION
Have you ever heard this quote?
"Write the Vision down so those that read it may RUN!" - Habakkuk 2:2
Or ...
"Where there is no vision people perish" - Proverbs 29:18
Both of these quotes I refer to often on my podcast and within my leadership community.
They succinctly explain the importance the importance of vision.
When it comes to vision there are only two possible outcomes:
Either people no where you are going and do everything they can to make the vision a reality, or
The vision lacks clarity and the people go in different directions leading nowhere.
Put simply: either you know where you are going or you go nowhere.
Steve Jobs was a master of communicating a clear vision.
I promise, I'll share on that in the next section ...
The chapter I contributed to the second edition of Education Write Now discusses how leaders can leverage their people's dreams to build a world-class culture. To do that a leader must dream for herself, first.
Do you have a personal vision?
Before you can take your organization from good to great by making your staff's dreams a reality, first you need to establish a vision for your life. Great leaders model.
When the book releases, my chapter will show you exactly how to build a personal and professional vision, but in the meantime please consider joining my leadership community. We would love to help you clarify your vision and solve your greatest challenges.
Here is an excerpt from the chapter I contributed:
At the end of the day, this work matters a lot and understanding your people and the dreams they have for themselves will absolutely be the key that unlocks creating a world class school and district. However, this only works if you are the best version of yourself too. Said a different way, it matters just as much (maybe even more) to be tuned into what lights your fire and inspires you.
A major reason I am passionate about this topic is that I'm fresh off of learning and applying these concepts within the groups I lead as well as designing a vision for my life. It took about a month, but I created a document which details exactly what I want to accomplish over the next three years -- by December 31st, 2021. I welcome you to checkout this detailed map of where I am headed right here: https://betterleadersbetterschools.com/vision
Cameron Herold calls this exercise and document a "Vivid Vision", but next I will share some practical tips on how to jump start and create your very own Vivid Vision.Getting Practical: Building Your Vivid VisionSome of the most important and rigorous work I have done has been to create a Vivid Vision. In reality this took an incredible time investment and I worked on it off-and-on for a month. I would invest a heavy portion of hours to work and then would need some time away from the vision before coming back to it.
Here are a few tips in order to create your own vision ...
PART 3: TWO THINGS STEVE JOBS TAUGHT ME ABOUT EDUCATION
The first thing I learned from Steve Jobs is the importance of knowing the people you serve. This is an incredible tip to helps administrators communicate more effectively!
So there I was driving down US-441, listening to Walter Isaacson's book, Steve Jobs, and I was so excited to write this blog post I was vibrating!
Walter Isaacson was describing the time that Jobs came back to work as CEO for Apple. The year was 1997 and Isaacson described two things Steve Jobs did that will instantly make you a better leader in your school.
TIP ONE: RALLY CRY: WHO ARE WE?
Have you seen this commercial?
This was the Apple "Think Different" advertising campaign in 1997. Richard Dreyfuss narrated the ad that actually aired. Apple insiders and the marketing team preferred the one narrated by Steve Jobs, but he didn't. As egotistical as he was, Jobs worried that if they released the ad he narrated it would seem too much about him.
What makes this commercial so special is that it is a rally cry. In just one minute, it is crystal clear who belongs to the Apple "tribe":
Crazy Ones

Misfits

Rebels

Trouble Makers

And Square Pegs in Round Holes
I love this so much! I especially connect with this line,"While some may seem them as the crazy ones, we see genius. Because the people who are crazy enough to think they can change the world, are the ones that do."
This poem and ad campaign clearly defined the Apple tribe.
Great leaders do this. They understand who they serve at a deep level.
If I asked you to articulate the following, could you?
What words would your staff use to describe themselves?

What are the deepest longings of your staff?

What is your staff passionate about?

What gets your staff excited?

What is each individual staff member's "Why?"

If each staff member could do anything in the world, what would they do?

If they could go anywhere in the world, where would they go?

What goals does your staff have around the domains of health, relational, mental, and spiritual?

etc.
This list is not exhaustive; it's a start!
But I want to push the leaders reading this post to consider how well they know the people that make up their organization.
For Apple, Steve Jobs knew his people and was able to articulate it through the "Think Different" poem.
When you read the second edition of Education Write Now, I will show you exactly how to know your people deeply by tapping into and understanding their dreams.
And it doesn't have to be complex ...
Below you can download my contributed chapter of Education Write Now and learn how to leverage your people's dreams to not only understand them better, but create a world-class organization too. Plus, when the book is available, I'll send you a remind email so you can invest in your very own copy.
TIP TWO: CLARITY + SIMPLICITY: WHERE ARE WE GOING?
The second thing I learned from Steve Jobs is that is important for educators to understand is the art of simplicity.
Jobs left a legacy of minimal and beautiful design. The iPhone, Macbooks, and everything else Apple produces are works of art.
When it comes to features, this can be frustrating. Whenever Apple adds a feature to their products, they take one away.
Did you catch that?
When Apple adds a feature, they take one away.
That is a MAJOR lesson for education. I call it "addition by subtraction."
Leaders need to process this idea and apply to the context of where they lead whether that is a classroom, school, or district.
If you keep adding to educators' plates without removing anything, you are encouraging overeating and nobody wants to see that
You'll also stress out your staff. And you show that you lack the ability and vision to prioritize what is most important for the team to focus on.
In addition to the "Think Different" campaign, Jobs established incredible clarity within the organization. In 1997 Apple was creating too many products. The focus was all over the place and the organization had fallen into a very bad habit.
Apple was "a mile wide and an inch deep."
Not for long. In one meeting Jobs was able to steer the organization toward the amazing profits it has enjoyed since 1997.
The picture below illustrates the focus:
Now there were just two categories for two types of consumers that Apple engineers and designers had to create.
Simple.
When an organization has this type of clarity they win. I've seen it time and time again with the small business owners I coach as well as the school leaders that KISS their organization.
Keep It Simple Stupid!
And the organizations that try to do it all.
Well ... they suck, they're ineffective, and they lose.
You can't be all things to all people.
Great leaders set a compelling vision for their organization. They KISS it. There is beauty in simplicity and the clarity it provides often times lead to success.
So what do you do when your people come up with great ideas that are not aligned with the current direction of the organization?
You tell them to add it to the "Can You Imagine Wall."
I share in detail how to set up the "Can You Imagine Wall" in my contributed chapter of Education Write Now. You can download my draft chapter below and I'll send you a reminder email when the entire book is available.
IN CLOSING ...
I really hope you enjoyed this post discussing the Education Write Now project, vision, how leaders can leverage dreams to build a world class culture, and what Steve Jobs taught me about education. Yet, reading these communication tips for principals is just the start. Now you need to execute on some of the ideas shared here to make what you learned real!
Each week I work with school administrators from countries around the world in our leadership community, the mastermind. We help school leaders fight isolation and frustration via a leadership community in order to gain clarity and find solutions to their greatest challenges. You can learn more about us and apply to be a member here.
If you enjoyed this post, you may want to check out my colleague's blog posts on our project too:
And if you want to follow us on Twitter: