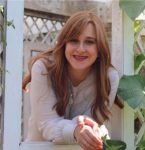 Chanie Wilschanski, an early childhood strategist and leadership coach. She works with EC directors to help them build a school of excellence. Schools that want to make a bigger impact by creating a collaborative culture, parent relationships and teachers as leaders!
Chanie believes that – No matter the stage of your school, the size of your staff and children or how big your budget —- schools are powered by the PEOPLE!

As a mom of 3 little kids ages 2, 5 and 7, Chanie Wilschanski loves to observe, do research and learn and make the time to read 2 books a week on leadership, school cultures, mindset and early childhood.
Discover Ed Consulting
Chanie Wilschanski Show Highlights
The story of DiscoverEd Consulting
How to embed the capacity of greatness in your people
The correlation between Parents and Leadership 
Your people are someone's treasured son or daughter
The importance of using voice and video 
Plan your tomorrow
The "Block and tackle" method via Todd Herman
The EC Leadership Conference
Themes learned from launching the EC Leadership Conference
Leaders don't have to know everything 
Chanie Wilschanski Resources
Did you enjoy today's show with Chanie Wilschanski? If you did, then please share on social media and leave a comment below.
​Listen to More Podcasts Here!
Show Sponsors
School Spirit Vending: Hassle-free, year-round fundraising for your school. With School Spirit Vending, we do all the work, you just cash the check.
SSV is also giving away the Top 10 School Fundraising Ideas for 2017. Download the guide here.
Our mission is to support people in education and nonprofit organizations to improve processes and enhance the performance of their organizations.

Our

 venture is a social enterprise and their vision is to catalyze sustainable change in our society one organization at a time

Our

 home city is Chicago but their work can be done anywhere in the nation and they are actively looking for clients elsewhere

Our

 current portfolio includes individual schools, nonprofit organizations, small and large districts and urban school systems

Our

 team represents and shares a stake with the populations we serve

We

 are strategic thought partners to leaders of public sector organizations

We

 ideates, builds and maintains easy-to-understand data tools using the latest analytics technology