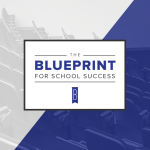 Are you in need of some response to intervention strategies?
In this post I will cover a number of response to intervention strategies and the main the way our RtI team makes data-driven decisions.
This post will cover:
the dashboard
bi-weekly student emails and what you should include in them
bi-weekly teacher emails and what I've learned from my mistakes
intervention & acceleration
gradual release of responsibility
needs assessment we give students
our student referral form
my ideal intervention class
Meet the dashboard
Tier 1 interventions … meet the dashboard
Believe it or not, there is not a one-stop-shop data center for school leaders in CPS to help us build response to intervention strategies for our students.
Out of this frustration "the dashboard" was created.  A huge shout out goes to some CPS colleagues.  I wouldn't have been able to create it with out your collective efforts.
What is the dashboard?
The dashboard was created so that a school leader could look at all his students in one place and manipulate criteria to design better response to intervention strategies.
I will share some pics below, but the following info is included in the dashboard:
ID#
Name
Gender
Advisory (Homeroom)
Grade
Counselor
Lunch Period
Tardies
Absences
Birthday
Classes and Grades
Medical Condition
IEP/504
Distance from School
Money Owed to the School
Sports / Club Affiliation
… and more (this dashboard is intense)
To design effective response to intervention strategies you need the right data.  Efficiency is also key and a school leader can be much more effective when she doesn't have to plow through multiple applications.  All the data I need is one place and if it's not there … I can add it with an Excel formula or two.
Once the dashboard is built, it is really easy to maintain.  The hardest part is figuring out the correct Excel codes.  From there it is running reports and copy/paste data as you need.  Some reports are run once a year (student's demographic info) while others are bi-weekly (grades) or weekly (tardies).
Below is a screenshot of my baby … I mean dashboard …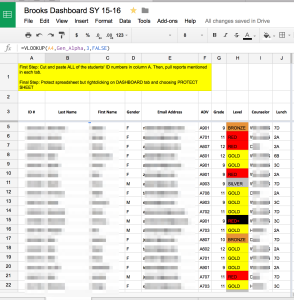 Feel free to click on the image to make it bigger and manipulate it however you'd like.  I'll also give you an opportunity to download a spreadsheet with no student names, but all the excel formulas below in the post.
The dashboard is essential to creating response to intervention strategies whether those are tier 1 interventions or tier 2 interventions.
One of the best ways I use this dashboard is to look at the academic levels (titled "Level" on the spreadsheet).
At my school we divide kids up into different colors:
Gold = all As, Bs, and/or Cs ≥ 75%
Silver = all As, Bs, and/or Cs ≤ 74%
Bronze = 1 D and any combo of As, Bs, and Cs
Red = Multiple Ds and/or 1 F and any combo of As, Bs, and Cs
Red+ = Multiple Fs and whatever else
This system isn't perfect, but it works for us right now.  Determine the levels based on what you need at your school.
The most labor intensive part is going student by student (841 in my case) and adding a "level" (e.g. gold, silver) to each student.  I'm sure there is an excel formula for that, but I haven't figured it out yet.
Here is how I add a level to each student.
First I keep a tab in the spreadsheet dedicated for
all students
all grades
every two weeks
It looks like this: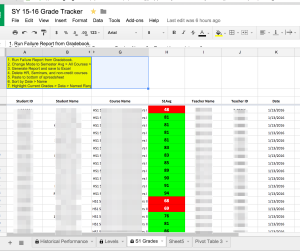 And from this tab I can create a Pivot Table with the data which I call Historical Performance.  This is my favorite tab because I can see the performance of my students longitudinally: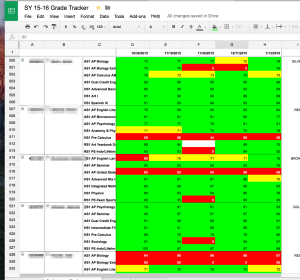 By now you can tell that I like to color code data.  I use conditional formatting to code.
As, Bs, and/or Cs ≥ 75%=  green
Cs between 70%-74% = yellow
Ds and Fs are red
Then I go line by line and identify each student as GOLD, SILVER, BRONZE, RED, or RED+.  Finally, I use a formula to indicate levels on the dashboard which I can now sort and quickly see who my GOLD through RED+ kids are.
I am currently making a video on how you can create your own school's dashboard.  Where you pull data from will be different than me, but the overall philosophy and the formulas will be the same.
By clicking below you will be added to my email list and I commit to creating and delivering this video by mid-February.
So what about Tier 1 and Tier 2 interventions?
The dashboard allows me to implement one of my favorite tier 1 interventions … I send 841 emails to every single student every two weeks.
That sounds more difficult than it is.  Using the dashboard I identify and then sort my students based on their performance level (e.g. GOLD).
Now that the students are sorted by level I copy the "email" column and paste into the BCC field in email.
This is super important – make sure you blind copy (BCC) all students to protect their identity and performance level from their peers.
In the email I want to communicate 3 things:
I am monitoring your performance
I care about you
There is help available
Tier 1 Intervention Sample Email
Tip #1: Have fun!
Robbie Gould is probably the only positive thing the Chicago Bears have going for them.  Students really loved this email.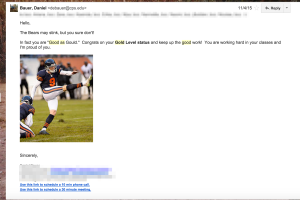 Tips #2: Lead with a question in the subject.  Title of this email was "What would you do with a pot of gold?
Tip #3: Be sweet "I wish I could bottle you up …"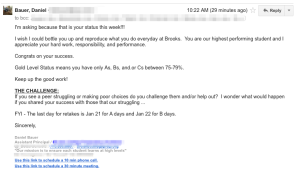 Tip #4: Include a challenge, PRO TIP, or call-to-action (CTA)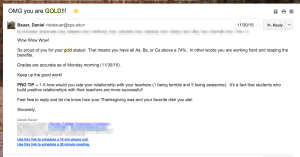 Write magic emails and check out the responses and engagement you will get …
Gold Responses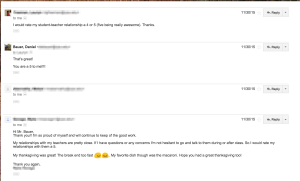 Red Response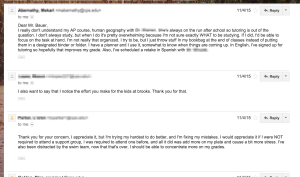 I shouldn't have been surprised, but I was really touched that a student identified the hard work I was putting in for our students.
I also send emails to our Advisory (Homeroom) teachers so they can have (discreet) conversations with their students.  Experience taught me some teachers will focus on the struggling students.  Explicitly state that they should communicate with all students and encourage those that are doing well too!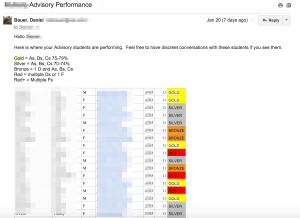 Note that I identified the levels too.  I don't know about your school, but there are a lot of things to remember (e.g. What does BRONZE mean?) so I defined it at the top of the email.
One way I can improve this email is to write exactly what kind of help is available to our students.  I'll include that in the next one!
More Tier 1 Classroom Interventions
My school is organized as a Professional Learning Community.  Teachers have agreed on:
the most important standards to teach
how they will assess for understanding
what they will do when kids don't get it
what they will do when kids do get it
Bullet points 3 & 4 is the "secret sauce" called intervention & acceleration (I/A).  Through this process we offer students reteaching and different activities if they are struggling to master content and skills.  This is intervention.
The students that already understand the material either go deeper with the current material or are introduced to material the teacher would normally never have time to introduce to the class (Need-to-know vs Nice-to-know standards).   This is acceleration.
I/A is my favorite example of tier 1 interventions that my students receive daily.  My school also operates on a block schedule.  The best part of a block schedule is the sheer magnitude of time – our classes are 104 minutes long.
That's great if used effectively.  It's a nightmare if used to lecture.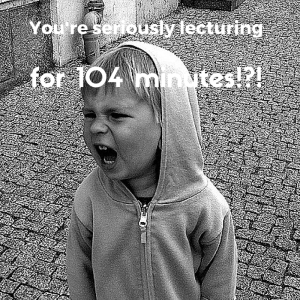 How to use 104 minutes effectively …
We ask teachers to save 20-30 minutes a day to administer I/A.  If that happens then we feel students have a good chance to avoid slipping through the cracks and enhance their learning daily.
Have you heard of the Gradual Release of Responsibility?  Teachers utilize this model during their classes when possible and applicable.  Gradual Release is another great example of response to intervention strategies (tier 1 & 2) that teachers can use.  You can read more about Gradual Release here.
Other Tier 1 Interventions we offer:
after school tutoring
teacher & counselor meetings
student conferences
accomodations / 504s
reteaching
seat change
communication with parents
Tier 2 Interventions
In addition to the teacher emails I shared above, I also send my teachers an email of their D and F students as a "gentle" reminder.  I try to explicitly state:
the email will not be used for evaluation
I'm sure you're aware that these kids are struggling
I know you've worked hard already to help them be successful
Is there anything else we can do to help the kids be successful?
These emails have been met with mixed results to be honest.  The only thing I like about this email is the data and tips.
Some feedback I received was to change some of the messaging so that I state "the students earned these grades."  I can understand why teachers would like that viewpoint expressed.  That was an easy change I was happy to make.
Here is a better version.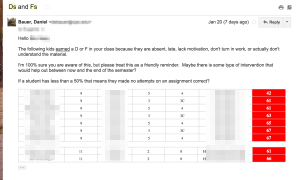 As you can see I made a better effort to communicate that I care to teachers here.  That first version I sent to teachers was cold.  That was a BIG mistake.  What was I thinking?  Oh yeah … I was trying to make it quick and easy, but that also communicates a lack of caring.
Glad I fixed it!
Some of the best ways you can develop RTI Tier 2 Intervention Strategies is by asking students great questions.  Below are some screenshots or our Needs Assessment.  In addition to general student info questions (e.g. Name, Advisory, Grade, etc.), we also ask …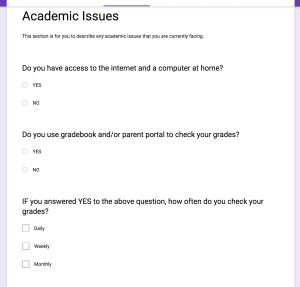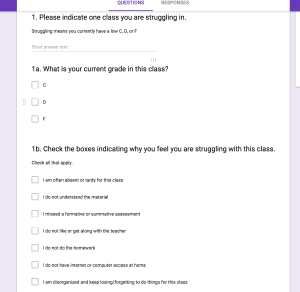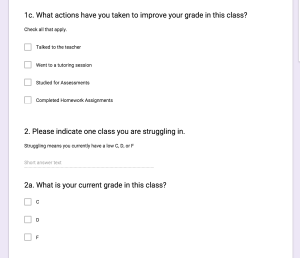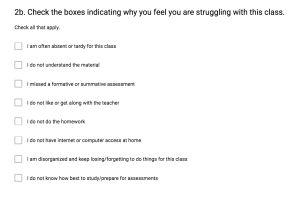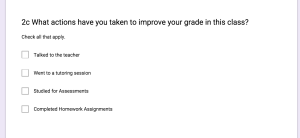 In addition to asking the students, our RtI team asks teachers to refer students they are worried about.  More pics below …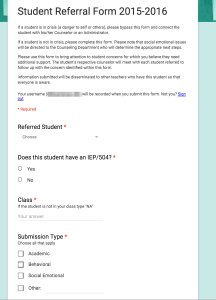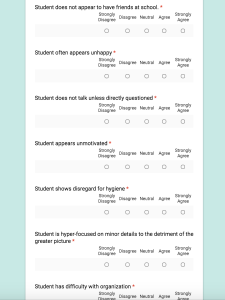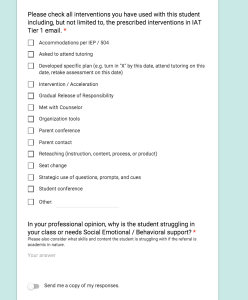 Finally, our school's journey through response to intervention strategies has taught me one thing that I want for next year.  We need to be more creative and flexible with how we use time and classes.
Is it possible to extend due dates for a targeted group of kids?  Why not?
In the 1st semester of SY 15-16 we had 21 kids with multiple Fs right before finals.  That is 2% of my school's population.  My heart tells me that it would make sense to do something different for these kids to help them connect to the school culture and experience success.
Additionally, I really hope we can add an intervention class in SY 16-17.
If the same kids struggle the entire school year (SY15-16) then why not take away an elective choice and give them an intervention class?
My ideal intervention class would:
be taught by a passionate teacher who loves a challenge
have an incredibly comfortable environment
teach study habits, note -taking, and critical thinking skills (via my AVID background).
create an environment where kids could collaborate, read, and work without distraction
If you made it this far … thanks for reading.
Click below to get a video on how to set up your school's dashboard.  I still need to make this video with fake students to protect the identity of the kids at my school.  I commit to creating this video and delivering to anyone that signs up for it by mid-February 2016. The video is done and will be sent immediately after you sign up below …
If you enjoyed the post Better Response to Intervention Strategies, then I would be honored if you commented and shared on social media.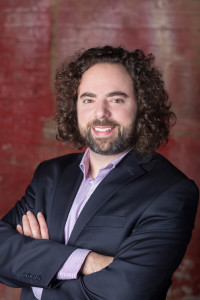 Skype: betterleadersbetterschools
Twitter / Facebook / Google+ / Linkedin
Email:daniel@betterleadersbetterschools.com
I help school leaders Create a Winning Culture, Focus on the Essential, and Lead with Courage and Integrity.
P.S. I wrote a short eBook highlighting what I learned from this year's WCA Global Leadership Summit.