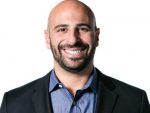 Adam Pisoni started Abl to help all schools move beyond the 20th century model of education. Two and a half decades after dropping out of high school, he returned to the field of education to rethink the structure of school as we know it. His career has been focused on helping organizations become more agile and responsive, and now he brings this expertise to schools.

Prior to Abl, Adam Pisoni co-founded Yammer in 2008, ultimately creating one of the fastest growing SaaS companies of all time. He oversaw product, analytics, and engineering, scaling the company to 500 employees until Yammer sold to Microsoft in 2012 for $1.2 Billion. To clear his head, Adam also enjoys long bike rides, backpacking, and rock climbing.
If we started to design schools today ... what would they look like? @ablschools @alienearbud #educatio #blbs

Adam Pisoni Show Highlights
How a listening tour started his company Abl
What prevents traditional school from meeting the needs of all their kids
Abl allows data to guide through terrible trade-offs and challenging constraints
The problems with current master scheduling systems
How school leaders can apply agility and responsiveness to education
Try testing small things first
Everything is an experiment 
Reframing success and failure
Should we run schools top-down?
Model agnostic philosophy
How Adam uses cadences in his company
Consent vs Consensus (integrated decision making)
Real change starts by engaging the community
Did you enjoy today's show with ​Adam Pisoni? If you did, then please share on social media and leave a comment below!
Show Sponsors
School Spirit Vending: Hassle-free, year-round fundraising for your school. With School Spirit Vending, we do all the work, you just cash the check.
SSV is also giving away the Top 10 School Fundraising Ideas for 2017. Download the guide here.