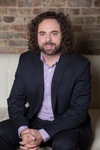 Danny "Sunshine" Bauer is the founder of Better Leaders Better Schools, a popular blog and most-downloaded podcast for leaders in education. He helps school leaders fight isolation and frustration through his leadership community, "The Mastermind," in order to gain clarity and find solutions to their greatest challenges. Danny is also the author of a "#1 Hot New Release" on Amazon, The Better Leaders Better Schools Roadmap, which helps educators create legendary schools.  
David Domenici is today's host.  David is an elementary teacher in southern California and a loyal follower of this very podcast,  Today the mic is turned to host Danny "Sunshine" Bauer.

Danny's Dream School
Take time to download this episode and listen to Danny's answer to a question he asks often on his podcast.  He will share is idea of what his dream school would look like. He will also share a little secret with his listeners!  Be sure to tune in!
Connecting Consistently
The greatest paradox that Danny experienced is when he opened up the podcast and the mastermind to the world,  HeI was able to connect on a much more consistent basis. Danny is in the Netherlands and David is in California and Danny is able to record this interview and share it worldwide through technology.  
"So looking at what's available and just trying to get like minded people together a form of tribe and see what we could do as a result." – Danny "Sunshine" Bauer
Staying Focused
Danny is focusing on being fully present during these type of conversations or coaching conversations.  He practices meditation to help with choosing whether you want to stay distracted or bring yourself back with intention.  Danny desires to record inspiring and empowering conversations out there for educators. Danny makes a habit of checking in with himself to ensure that he is present frequently.
"But it's the small stuff, you know, it's not real big grand things, but they, they, they add up and when I can address them, it helps me just keep trying to become that best version of myself." – Danny "Sunshine" Bauer
Career Highlight
Danny's career highlight is his mastermind group. He has worked with a mentor himself and has gained so much personal growth over the past six months.  While working with Aaron Walker in his mastermind Iron Sharpens Iron, Danny realized that the education industry needed the same type of group to avoid isolation and for transformation of leaders.  He decided that he would step up and fill the gap and serve school leaders. The mastermind group is there week in, week out, where you can build strong deep relationships. Members can be their true authentic self. Leaders can can bring issues of what they don't have figured out and where they need some help and the other members will  alongside you during this leadership journey and help you through it.
"And the best part is we don't work together so we can be brutally honest. There's no thinking like, well, you know, what's it going to be like at work if I, if I'm honest and blah, blah, blah. Say this stuff, uh, in, in there's no politics, so we're all just cheering each other on wanting everyone to be successful and we can do that in a very, very authentic, honest, but rooted in love and rooted in love type of way" – Danny "Sunshine" Bauer
Did you enjoy today's show with Danny "Sunshine" Bauer? If you did, then please share on social media and leave a comment below!
Show Sponsors
Organized Binder is an evidence-based RTI2 Tier 1 universal level solution

Focuses on improving executive functioning and non-cognitive skills

Is in direct alignment with the Universal Design for Learning (UDL) framework

Is an integral component for ensuring Least Restrictive Environments (LRE)
You can learn more and improve your student's success at https://organizedbinder.com/
Copyright © 2019 Better Leaders Better Schools