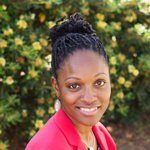 Dr. Sanée Bell is the principal of Morton Ranch Junior High in Katy, TX. She has served as an administrator since 2005 at both the elementary and secondary levels. Sanée was recognized as the 2015 Katy ISD Elementary Principal of the Year. Prior to becoming an administrator, Sanée taught middle school and high school English and also coached girls basketball. She earned her doctorate degree in Educational Leadership with an emphasis in Curriculum and Instruction from the University of Houston Clear Lake, where she currently serves as an adjunct professor.

Sanée Bell is passionate about authentic, purposeful learning for students and teachers, and also has a strong passion for leadership and its impact on teacher engagement, student learning and school culture.  She recognizes her impact as a leader and uses her role to inspire, motivate, and empower others. Sanée has presented at local, state, national and international conferences, and has written publications and several guest blog posts focused on leadership and its impact on students and teachers. She shares her thoughts on leadership on her blog saneebell.com and via Twitter @SaneeBell.
Sanée Bell Show Highlights:
Take care of yourself prior to work to get the most of your work day

Planning the day with intention (and with your admin assistant)

How to recalibrate when you drop a new (but good) habit

Building high performance teams

Honoring your individual team member strengths

Ah-ha moments of understanding who you are a leader vs the actual organization you lead

Collaborating on the #EdWriteNow Vol II

Preventing teen suicide with the Will to Live Foundation

How to engage in productive conflict via collective agreements
"You can't principal from the office"
-Dr. Sanée Bell
Sanée Bell Resources:
#EdWriteNow Volume II (Coming in January)
Sanée Bell Contact Info
"Be excellent on purpose"
-Dr. Sanée Bell
Did you enjoy today's show with Dr. Sanée Bell? If you did, then please share on social media and leave a comment below!
Show Sponsors
Organized Binder is an evidence-based RTI2 Tier 1 universal level solution
Focuses on improving executive functioning and non-cognitive skills
Is in direct alignment with the Universal Design for Learning (UDL) framework
Is an integral component for ensuring Least Restrictive Environments (LRE)
You can learn more and improve your student's success at https://organizedbinder.com/
Copyright © 2018 Better Leaders Better Schools