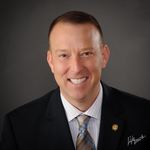 Daniel P. Kelley is an educator, instructional leader, and innovator. Before assuming the presidency of NASSP in 2017, Dan served as principal of Smithfield High School in Smithfield, RI, and was named the 2012 Rhode Island Principal of the Year. Before this, he served as a high school assistant principal; a high school and middle school special education teacher; and a middle school math and science teacher.

As a leader in education, Dan believes in challenging current instructional practices to provide creative and effective opportunities for students to learn, grow, and succeed. He is passionate about educational leadership that builds strong relationships with faculty and the community, utilizing social media to foster connections between educators, and establishing Personal Learning Networks for collaboration and professional development.
Dan Kelley Show Highlights:
What Dan has learned through conversations with principals across the United States.

The principal + teacher shortage

Why Twitter is the best social media tool for educators

Dan's biggest "Aha" moments as the President of NASSP
The need for Principal coaching / mentoring

Education is not broken

The mistake of not listening
Dan Kelley Resources:
Dan Kelley Contact Info
Did you enjoy today's show with Daniel Kelley? If you did, then please share on social media and leave a comment below!
Show Sponsors
Organized Binder is an evidence-based RTI2 Tier 1 universal level solution

Focuses on improving executive functioning and noncognitive skills

Is in direct alignment with the Universal Design for Learning (UDL) framework

Is an integral component for ensuring Least Restrictive Environments (LRE)
You can learn more and improve your student's success at https://organizedbinder.com/
Copyright © 2018 Better Leaders Better Schools