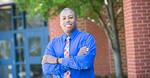 Demetrius Ball is a current AP at Dougherty Valley HS. Demetrius served in the Army before becoming an educator. He met his wife in college as a freshmen at West Point and together they have 4 incredible kids. This year he has become passionate in long distance running.

Demetrius Ball Show Highlights:
How his military experience impacted his leadership style

The struggle of being a connected educator

How Demetrius tells the story of his school through a podcast

Bridging the communication gap through a podcast

The tools Demetrius uses for podcasting

Why Demetrius is a big proponent to Restorative Practices

How Restorative Practices deals with root causes

Building ownership within the staff regarding Restorative Practices

Are you really listening and reflecting on the conversations you are having?
Demetrius Ball Resources:
Demetrius Ball Contact Info
Did you enjoy today's show with Demetrius Ball? If you did, then please share on social media and leave a comment below!
Show Sponsors
Organized Binder is an evidence-based RTI2 Tier 1 universal level solution
Focuses on improving executive functioning and noncognitive skills
Is in direct alignment with the Universal Design for Learning (UDL) framework
Is an integral component for ensuring Least Restrictive Environments (LRE)
You can learn more and improve your student's success at https://organizedbinder.com/
Have you ever thought, "Educators are great at collecting data — but how do teachers use that data in real time?"
This Mastery Leadership Institute is an intensive, three-day professional development retreat facilitated by nationally recognized principals.
Educators will be immersed in full-day workshops focused on strategies to effectively use data to target interventions, personalize learning, and evaluate instructional efficacy.
Attendees are part of a dedicated cohort that will meet in monthly coaching sessions with other like-minded educators from across the country.
Transform the data culture in your school and get your teachers using data in just two days, with proven strategies like the 48-hour Challenge.
True school transformation is only possible when educators are empowered to use the data they collect to immediately impact teaching and learning.
Learn more about the Mastery Leadership Institute including upcoming dates and locations here.
Copyright © 2018 Better Leaders Better Schools