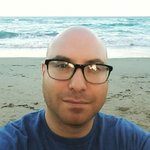 Dan Kreiness is a middle school instructional coach in Derby, Connecticut. Before acquiring this position in the fall of 2015, Dan helped create the intervention program at Derby Middle School as the Reading Interventionist. Dan began his teaching career by spending nearly eight years in the New York City Department of Education as an eighth grade English language arts teacher, academic intervention specialist, and middle-level literacy coach. Dan holds masters degrees in adolescent education and educational leadership and is currently a doctoral student in the field of educational leadership.

Dan Kreiness is emerging as an expert presenter at education conferences, trainings, and EdCamps on topics including leadership, growth mindset, student engagement, various instructional technologies, augmented and virtual reality for education, and using social media in education. Dan is the creator of the Leader of Learning podcast. His specific educational interests include leadership, educational technology, and student engagement. He is an ASCD Emerging Leader. He is also a Google Certified Educator, Nearpod Pionear, Flipgrid Ambassador and Hoonuit Learning Ambassador. Dan will also soon have a chapter published in the upcoming EduMatch Snapshot: 2017 book on transformational leadership and growth mindset.
Dan Kreiness Show Highlights
The story behind starting the Leader of Learning podcast
Leading without labels
Helping people feel the need for change
Challenges are merely opportunities
Studying the link between transformational leadership + growth mindset
No one person can change another … until they want to change
Know where you want to go
Did you enjoy today's show with Dan Kreiness? If you did, then please share on social media and leave a comment below!
Show Sponsors
Organized Binder is an evidence-based RTI2 Tier 1 universal level solution

Focuses on improving executive functioning and non-cognitive skills

Is in direct alignment with the Universal Design for Learning (UDL) framework

Is an integral component for ensuring Least Restrictive Environments (LRE)
You can learn more and improve your student's success at https://organizedbinder.com/
•Hassle-free, year-round fundraising for your school. With School Spirit Vending, we do all the work, you just cash the check
•Increase school spirit with custom stickers for your school and raise funds at the same time -no upfront costs, no volunteers, no selling
•Sick of the same old ways of raising money for your school? Let School Spirit Vending's hassle-free, year-round fundraising program supplement the other fundraisers you're already doing.
•SSV is also giving away the Top 10 School Fundraising Ideas for 2018. Download the guide here.