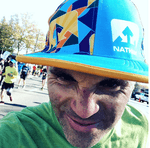 Adam Welcome is currently a Director of Innovation and Technology, and former Elementary Principal for six years. Adam also taught elementary school for seven years and set up one of the first GAFE domains in his county. Adam was Principal of the Year for his ACSA region, a 20 To Watch for the National School Board Association, guest blogger for EdWeek, NAESP magazine, ACSA and also writes his own blog. Adam also consults and works with many education technology companies as a way to improve their product for others!

Adam Welcome is passionate about technology integration with all educators and a huge advocate of social media and connecting with other educators from across the country. Adam makes it clear that kids come first and has preached the message of Team Kid for many years. Adam believes leaders should stand on the tables, ride tricycles and do whatever it takes to connect with kids! 
He is also the co-founder of Kids Deserve It with Todd Nesloney and there book is currently on Amazon for order. 
Adam has an amazing wife (Stacy) and two young children (Greta and Tilden) that keep life at home exciting and active.
Adam Welcome Show Highlights
What to do with the haters …
Your barometer should be kids (awesome / not awesome)
The power of being "un-principal"
"You need a life!" Do you have one?
Do something today with your kids they don't expect
Some of the worst advice Adam received as a principal
Do what you are great at and let others do the rest
The story of starting Kids Deserve It
Why he chose "Suffer" as his one-word for 2017
Find you passion to connect with outside of school 
Adam Welcome Resources
Kids Deserve It Twitter chat: 6 pm PST every Wednesday
Help Adam raise $100,000 for homeless students
Did you enjoy today's show with Adam Welcome? If you did, then please share on social media and leave a comment below!
Show Sponsors
•Hassle-free, year-round fundraising for your school. With School Spirit Vending, we do all the work, you just cash the check
•Increase school spirit with custom stickers for your school and raise funds at the same time -no upfront costs, no volunteers, no selling
•Sick of the same old ways of raising money for your school? Let School Spirit Vending's hassle-free, year-round fundraising program supplement the other fundraisers you're already doing.
•SSV is also giving away the Top 10 School Fundraising Ideas for 2018. Download the guide here.