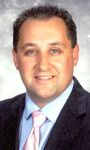 Mr. Michael Acomb is currently an elementary principal in the Solon City School District, located near Cleveland, Ohio. He proudly earned his undergraduate degree from John Carroll University where he played football and learned the importance of serving with and for others. He holds master's degrees in special education and K-12 organizational leadership. Michael has been a thought leader in school administration with 14 years of experience at the middle and elementary levels. His leadership has earned the United States Department of Education National Blue Ribbon, and over time, his schools have earned numerous other national and state awards for consistent high performance in special education, value added growth, and overall student achievement. Mostly recently, the Solon City Schools were rated #1 in the country by NICHE for public school districts. Since 2002, Michael has spoken to audiences throughout the United States on numerous topics. His passion in developing leadership and school cultures that support excellence in teaching and learning has earned him a reputation as an exceptional leader and collaborator. He is recognized widely for his skill in directing comprehensive, systematic, and differentiated literacy efforts in the early childhood and middle grades. 

Mike Acomb is an expert in strategically leading teams of teachers in developing systems of common assessments that monitor student learning and guide instructional and organizational decisions. He relishes in solving problems and helping others through improvement. Michael is married to Lindsay. They have four school-aged children.
Mike Acomb Show Highlights
How education felt like "home" to Mike
His passion to help students be happy, successful, confident, and have hope
Mindset Mondays
"Just Do It, Stick to It"
How to build culture
Leadership is hard
The Principal life is one of conflict
Listen, then coach to solutions
Strategy to work with upset parents
Do you paraphrase in conversations?
Mike's morning starts the previous day
Did you enjoy today's show with Mike Acomb? If you did, then please share on social media and leave a comment below!
Show Sponsors
•Hassle-free, year-round fundraising for your school. With School Spirit Vending, we do all the work, you just cash the check
•Increase school spirit with custom stickers for your school and raise funds at the same time -no upfront costs, no volunteers, no selling
•Sick of the same old ways of raising money for your school? Let School Spirit Vending's hassle-free, year-round fundraising program supplement the other fundraisers you're already doing.
•SSV is also giving away the Top 10 School Fundraising Ideas for 2018. Download the guide here.