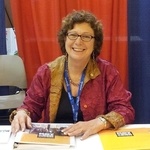 Dr. Becki Cohn-Vargas is an independent consultant who has spoken on the subject of how to combat bullying, create identity safe classrooms, and positive school climates at conferences, schools, and universities across the United States. She has been hosted at the White House twice where she briefed President Obama's education staff. book, Identity Safe Classrooms: Places to Belong and Learn, co-authored with Dr. Dorothy Steele, was published by Corwin Press.

Dr. Becki Cohn-Vargas has worked as Director of Not In Our School (NIOS), a bullying and intolerance prevention project of The Working Group. She also has spent over 35 years in public education in California.
Becki co-owns the Makengue Preserve, 190 acres of virgin rainforest in Nicaragua near the border with Costa Rica. She has been leading college student groups there for the last five years to do research and community service projects.
Becki Cohn-Vargas Show Highlights
How her family's roots in Nazi Germany influenced her desire to create safe schools
The definition of identity safety
How to create schools that are more welcoming, validating, and safe.
Creating safety for teachers as well as the students
How identity safety impacts student achievement?
Addressing bullying and intolerance
Don't be color blind and don't ignore differences
Routine and rituals that helps Becki be successful
Becki Cohn-Vargas Resources
Did you enjoy today's show with Dr. Becki Cohn-Vargas? If you did, then please share on social media and leave a comment below!
Show Sponsors
•Hassle-free, year-round fundraising for your school. With School Spirit Vending, we do all the work, you just cash the check
•Increase school spirit with custom stickers for your school and raise funds at the same time -no upfront costs, no volunteers, no selling
•Sick of the same old ways of raising money for your school? Let School Spirit Vending's hassle-free, year-round fundraising program supplement the other fundraisers you're already doing.
•SSV is also giving away the Top 10 School Fundraising Ideas for 2018. Download the guide here.