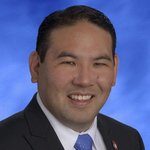 Winston Sakurai has distinguished himself as an innovative educational leader at the state and national level for over 25 years. He was recently named by the National Association of Secondary School Principals as a 2016 National Digital Principal of the Year and by the Hawaii Association of Secondary School Administrators as the 2016 Hawaii State Principal of the Year. He currently moderates a national education chat for school leaders, #PrinLeaderChat, on Twitter.

Winston Sakurai believes that empathy, empowerment and a positive environment are keys to unleashing innovative ideas to help students and teachers be successful.
Winston Sakurai Show Highlights
Winston's rich history and interest in becoming a principal since 3rd grade
Students know quality educators when they see it
Leadership is about caring
Make sure students know you love them
Do your best to make students successful
Ask students how to improve the school
You can grow future educators starting today in your school
Give opportunity when opportunity isn't there
Be generous with wisdom, support, and time.
Relationships are more important than policy and procedures
Winston Sakurai Resources  
Did you enjoy today's show with Winston Sakurai? If you did, then please share on social media and leave a comment below!
Show Sponsors
School Spirit Vending: Hassle-free, year-round fundraising for your school. With School Spirit Vending, we do all the work, you just cash the check.
SSV is also giving away the Top 10 School Fundraising Ideas for 2018. Download the guide here.