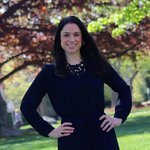 A sought after speaker and writer, Kerry Gallagher's full time job is as Digital Learning Specialist at St. John's Prep in Danvers, Massachusetts. She's also the Director of K-12 Education for ConnectSafely.org and an EdSurge Columnist. Kerry's passions and the focus of her work include empowering teachers, students and parents to learn with open education resources; educating school communities about the power and privacy concerns that come with social media use; and diving headfirst into learning more about new and effective practices in education.

Kerry Gallagher received the 2014 Yale-Lynn Hall Teacher Action Research Prize for her submission on the use of mobile devices for a paperless public school classroom. In 2015, she was a PBS LearningMedia Digital Innovator, the Family Online Safety Institute recognized her with the Outstanding Achievement Award, and she was a MassCUE Featured Educator. In 2016, she was an ASCD Emerging Leader and received the MassCUE Pathfinder Award. Kerry speaks and presents often at conference locations that have included Harvard Law School, Yale School of Management, and Stanford University. She holds a B.A. in Politics from Saint Anselm College and J.D. from Massachusetts School of Law. Her multi-award winning blog can be found at www.KerryHawk02.com.
Kerry Gallagher Show Highlights
Why Kerry pivoted from politics to education
How Kerry uses books to build relationships
The book Kerry hands out the most
Long emails from colleagues and what they teach us …
The strength of a discussion that leads to no clear answer and more questions
Do you fix problems quickly?
Kerry's writing process
The importance of mentorship for new teachers
How to build sustainable and authentic mentor relationships
Fighting the Imposter Syndrome
Moving reluctant teachers to take risks
Did you enjoy today's show with Kerry Gallagher? If you did, then please share on social media and leave a comment below!
Show Sponsors
School Spirit Vending: Hassle-free, year-round fundraising for your school. With School Spirit Vending, we do all the work, you just cash the check.
SSV is also giving away the Top 10 School Fundraising Ideas for 2018. Download the guide here.