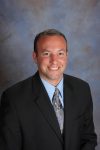 Originally from DeMotte, Indiana, Kyle Hamstra moved to Cary, North Carolina in 2002. After teaching fifth grade math/science for fourteen years at Davis Drive Elementary, Kyle is now a second-year elementary STEM Specialist, serving over 1,000 students weekly. Kyle is happily married to Leann Hamstra. Kyle is passionate about and interested in speaking on the topics of educational leadership, curriculum, STEM, and growing with his professional learning network. Connect with him at kylehamstra.com, @KyleHamstra, and kghamstra@gmail.com. 

Kyle Hamstra Show Highlights
Why Kyle was not a fan of social media at first (and why he changed his opinion)
Some of Kyle's favorite TwitterChats
What it's like to win an ASCD Emerging Leader Award
The obstacle is the way
People crave authenticity
Are you open to trying something new?
Why each school should include a STEM special course
The 3 kind of people you need in life 
Kyle Hamstra Resources
Twitter Chats you should check out:
#Satchat
#L2Lchat
#Leadupchat
Did you enjoy today's show with Kyle Hamstra? If you did, then please share on social media and leave a comment below!
Show Sponsors
School Spirit Vending: Hassle-free, year-round fundraising for your school. With School Spirit Vending, we do all the work, you just cash the check.