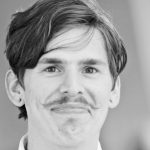 Nathaniel Bozarth calls himself a storyteller and curious individual. Trained in the techniques of anthropology, Nathaniel strives to see the small (the minute details that are often overlooked), to see the big (the overarching systems that inform how we live) and to see the seeing (the biases and assumptions that interpret how we see). Nathaniel has produced two web documentaries that are available online for free: Your Fellow Americans and Re:Dream [pronounced Re-Dream]. Both series look at how issues of race and identity affect opportunity in America through the eyes of diverse individuals.

Nathaniel Bozarth now hosts and produces Wide Ruled, a podcast on the past and present of equality in education.
Nathaniel Bozarth Show Highlights
How privilege pushed Nathaniel to care about issues of race and equity
Nathaniel and Daniel's story of understanding privilege
Why Nathaniel started a podcast on race and equity called Wide Ruled
Nathaniel's Ah-Ha moments learned through his podcast
Teachers have been victimized by top down reform
How to give dignity back to your staff, students, and community
Are we training our Principals and APs to lead?
"The History of Math" class Nathaniel would teach in school's today
How schools can become the happiest place on Earth
Nathaniel Bozrth Resources
Did you enjoy today's show with Nathaniel Bozarth? If you did, then please share on social media and leave a comment below!
Show Sponsors
School Spirit Vending: Hassle-free, year-round fundraising for your school. With School Spirit Vending, we do all the work, you just cash the check.