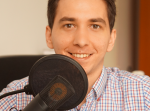 Georgian Benta is the founder and host of "The Gratitude Podcast", a weekly show that inspires people to find new ways of making gratitude a habit by interviewing successful people and getting them to share fascinating stories about living a grateful life. Georgian also does gratitude coaching and his vision is to inspire 100,000 people to focus on gratitude.

As an entrepreneur, Georgian Benta builds his business around his unwavering passion for gratitude. Since he created his new habit of gratefulness, his income has tripled, his business has been thriving, and so much more amazing experiences have come his way!
Georgian Benta Show Highlights
The story behind starting The Gratitude Podcast
Repurposing your commute to work for gratitude
Practices for gratitude
The importance of having meaning within an organization
What Georgian has learned about gratitude after interviewing over 50 guests
5 ways to easily supercharge your gratitude during workdays
What makes Gary Vee a great leader
Did you enjoy today's show with Georgian Benta? If you did, then please share on social media and leave a comment below!
Show Sponsors
School Spirit Vending: Hassle-free, year-round fundraising for your school. With School Spirit Vending, we do all the work, you just cash the check.
SSV is also giving away the Top 10 School Fundraising Ideas for 2017. Download the guide here.